8 Ideas for a Boater's Halloween
Make this spooktacular holiday even better this year! From trick-or-treating at the marina to creepy places to boat, there's so much to do and see to amplify the fun. Keep reading to see these creative and exciting tips for a boater's Halloween.
1. DIY Halloween Boat Parade

Trick-or-treating might not be your thing, but you and your family can still get dressed up and show off your costumes. Grab the family and put on your Halloween costumes. Then cruise around the canals, lakes, or any coastal area, and have fun parading your costumes. Invite some other friends with boats along to add to the fun. Don't forget to play your favorite Halloween music.

2. Haunted Boat

Even if you're not a big fan of getting spooked, you'll still have a blast decorating your boat like it's a haunted house. Send your kids and their friends through it for some Halloween fun. Plus, it's a great way to keep your haunted house tradition going without having a costumed ghoulish procession frolicking through your home. One of these

Aquila Power Catamaran

models would be fun to turn into a haunted boat—just imagine the possibilities with all the extra room!
3. "I-Spy" Boat Ride

It's a known fact how spectacular fall boating can be. But for your little ones, make it even more exciting with a Halloween I Spy game or scavenger hunt. Cruise around your nearby coasts while searching for a neighbor's scarecrow or pumpkin. If not, the classic I Spy game will make this pastime your little one's favorite adventure. Don't forget the hot cider and donuts!

4. Carve Your Pumpkin - Nautical Style

Our boating-themed pumpkin carving templates are a customer favorite this time of the year. Cut and trace the template onto your pumpkin and start carving. Or, for a less messy fall tradition, use the templates to trace and then paint your pumpkin nautical theme.
5. Halloween Games

Your favorite Halloween games are even more fun with a change of scenery. This is a chance to get out of the house and play your favorite family fun fall games—on your boat. Stay at the marina or cruise to an area of your liking to play your favorite fall games. But when it comes time for bobbing for apples, don't use the livewell! However, if you are looking for boats with some roomy and high-quality livewells, check out these boo-eautiful

Boston Whaler

models.

6. Be Safe—Get Rid of Engine Room Spooks

If your electronics or engine is acting a bit 'spooky,' ensuring your boat is in tip-top shape before your Halloween adventure will help keep the fun going smoothly. Double-check all your systems, displays, and fuel levels before venturing out. Also, if this is your last few runs of the season, schedule your

winterization

, or for those in southern climates, schedule your boat's annual check-up to keep the good times rolling. For Boating Made Easy™, use the

MarineMax App

to schedule maintenance or cover all boating needs.
7 Creepy Places to Boat to

Want to try something a little different this year? Get your gall up and have no fear—then travel to one of these eerie locations via water, which can spook up the experience even more! If you haven't heard of the following locations, you're in for a haunted treat.

For spells, witches, and more, check out Salem, Massachusetts.
Cape May, New Jersey, is home to haunted Victorian houses and trolley tours.
Get your voodoo on and hear about the famous ghosts and haunted areas of the French Quarters in New Orleans, Louisiana.
Let the ghost and stories of Edgar Allen haunt you in Baltimore, Maryland, as well as dead sailors that hang around the Admiral Fell Inn.
Experience parts of the "Legend of Sleepy Hollow" in the actual village of Sleepy Hollow in New York, where locals bring the story to life.
Check out Friday Harbor in Washington state and be in the presence of all the ghosts in the San Juan Islands.
Head over to Savannah, Georgia, and listen to the sounds of laughing children at the Hamilton-Turner Inn and get spooked by potential ghost pirates in an old saloon.

8. Take a Boat Ride to Experience the Colors

Not everything has to be spooky on Halloween. Instead of joining in on the tricks, treat yourself to a beautiful fall boat ride. Although it might be chilly enough for you may be pulling out your scarves and your boots in some areas, fall still presents many boating opportunities! Waterways have slowed down, which means it's a safer and more relaxed time of year for new boaters. Not only is it more peaceful, but you can't beat seeing the gorgeous yellow, orange, and red fall foliage and its reflection on the water in many areas. To keep warm while leaf-peeping on the water,

cabin cruisers

are great options.
MarineMax also has plenty of
events
happening during holidays and other times too. Check out the
events page
online at MarineMax for exclusive Get
aways!®,
Day
aways!,
local happenings, and so much more!
Getting Started is Easy!
Staying safe on the water starts here. Enjoy the journey as you explore different types of boats, activities, and much more.
Discover the world of boating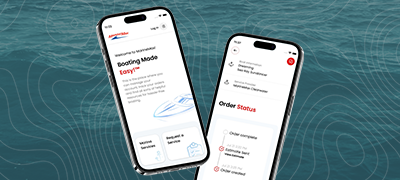 MarineMax App
Scheduling service for your boat or yacht is now easier than ever with the new MarineMax mobile app.
Download Now
Let's Get Social 👍
We want to hear from you! Share your boating photos and videos. You may even get featured on one of our channels, along with the latest news from across the boating industry, fun stories from fellow boating enthusiasts, and much more!
Follow Us