Cutting-Edge Designs and Unique Innovations
Founded in the 1950's,
Harris
has a long history of design innovation and a legacy of expert craftsmanship in their pontoons. Take an inside look at some of the features that exemplify Harris's culture of design and innovation.
Active Trim

Mercury® Active Trim is an integrated GPS speed-based automatic engine trim system that eliminates the need to manually control the trim settings. With five selectable trim profiles, select the profile that suits the water conditions or the driving style and let the system automatically adjust the trim. Automatically adjusts the trim level when the driver changes the boat speed or when entering turns. Compatible with engines ranging from 40 hp - 700 hp.

Patented Marine Head Compartment

Exclusively on the all-new Harris V270 as standard equipment, the patented marine head compartment features a fiberglass liner with auto bilge, pressurized fresh water with 24-gallon capacity, and a pump-out head with a 9-gallon waste tank. Feel right at home with a pressurized sink and shower unit, hinged sunroof, and LED interior lighting.

Ladder and Swim Seat

With easy to operate foot controls, the power-deploying and retracting stainless steel folding/retracting ladder makes getting in and out of your pontoon easier than ever before. Conversely, have a convenient seat just below the water's surface with the stainless steel frame of the starboard seat base, available on most models.
Find Out More About Harris Pontoons
Get a Taste of the Harris Lifestyle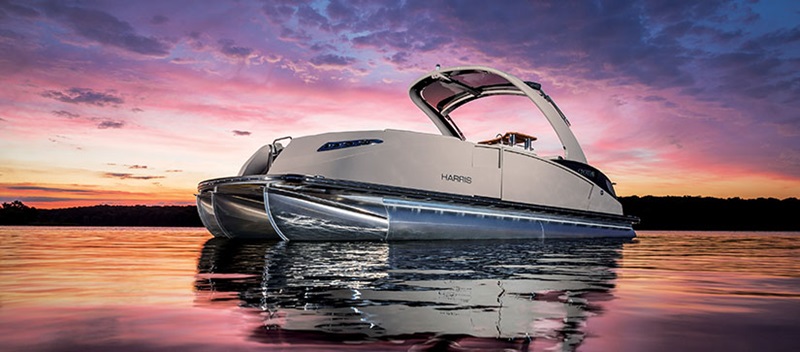 Play video for The Harris Brand
For more than 60 years, Harris has been serving its customers with the mission of making time on the water better than ever. Their lasting reputation speaks for itself, and their continuous pursuit of perfection means the future is bright. Join Harris on the water!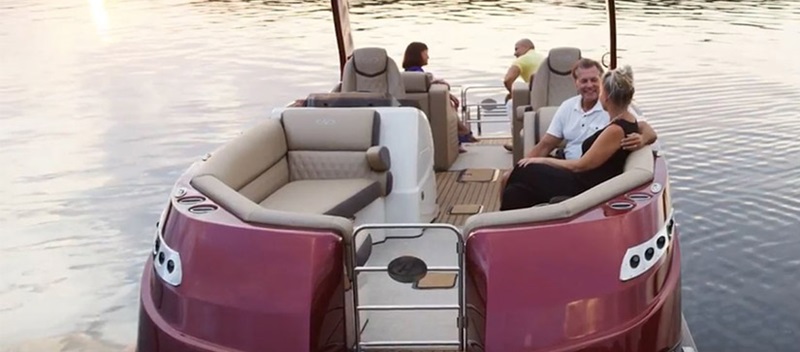 Play video for The Harris Experience
Experience a Harris first-hand and you'l never look at owning any other vessel again.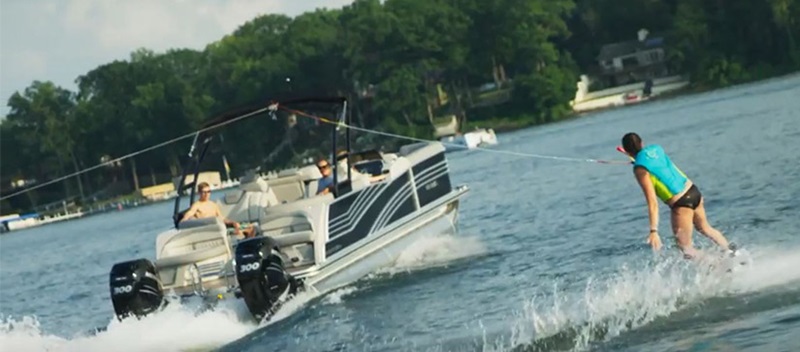 Play video for Meet Harris Pontoons
Harris is your go to for top of the line pontoons.
Harris Pontoons
Championing expert craftsmanship and genre redefining designs, Harris has distinguished itself as one of the top pontoon boat manufacturers in the world.
Get on the Water
Getting Started is Easy!
Staying safe on the water starts here. Enjoy the journey as you explore different types of boats, activities, and much more.
Discover the world of boating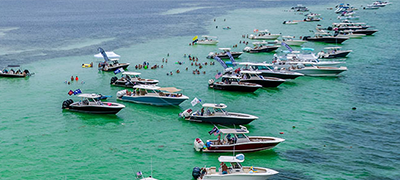 Find an Event
All this fun is exhausting – NOT! We love creating entertaining and exciting customer events. Each is designed to make boating the most remarkable leisure activity in your life.
Find an Event