June Is Great Outdoors Month: Explore. Play. Connect.
A boat makes getting outdoors easy and even more enjoyable. And did you know you can even camp with your boat? Find some amazing campgrounds below where you can gaze at the stars and your boat!
So during the month of June #EscapetheIndoors! Join your local MarineMax store for an event, meet new friends and old, explore your local waterways, pitch a tent on the beach, go fishing (see free fishing days) and don't forget to snaps pics (we even have tips for great pics). Tag your pics on social media with #ShowUsYourBurgee and #EscapetheIndoors.
Page Position for fishing
Page Position for camp
Page Position for showusyourburgee
Get Outside and #ShowUsYourBurgee

Each summer MarineMax boaters across the country share hundreds of pictures of their boating fun with #ShowUsYourBurgee! As you head outside and onto the water, make sure to join in the fun this summer. It's easy:

Visit your local MarineMax store to pick up your FREE new 2019 MarineMax Burgee!
Take pics with your MarineMax Burgee on your boat, on skis, at exotic locations, wherever you enjoy boating fun.
Share your adventures with us and other boaters by posting to social media and tagging #ShowUsYourBurgee.
Page Position for takegreatphotos
5 Tips on How to Take a Great Photo

We gathered 5 great tips to help you take the best photo possible while enjoying your favorite people in your favorite places. So brush up on your photography skills using your smartphone or camera and be ready to take photos of the amazing moments you experience doing Great Outdoors Month.
Page Position for findanevent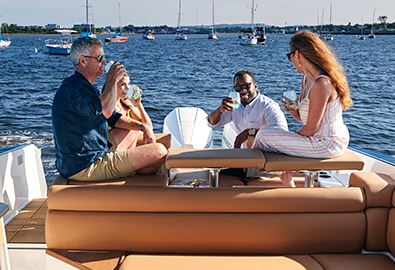 Baltimore, Maryland
Oct. 02-04, 2020
Join us at our MarineMax Baltimore location for a Fall Boating Showcase. Tour the latest models from Scout, Sea Ray, Aviara, Azimut, and Galeon.
Page Position for dates
2019 Free Fishing Days By State
Alabama: June 8

Arkansas: June 7-9

Arizona: June 1

California: July 6 and August 31

Colorado: June 1-2

Connecticut: May 11, June 16, 2018 and August 10, 2018 (must get the free one day license)

DC: June 1-9, 2018

Delaware: June 2-3, 2018

Florida: June 1-2 (saltwater), June 8-9 (freshwater), September 7 (saltwater), November 30 (saltwater)

Georgia: June 1 and 8, September 28

Hawaii: 365 days a year (marine)

Iowa: June 7-9

Idaho: June 8

Illinois: June 15-16

Indiana: June 1-2

Kansas: June 1-2

Kentucky: June 1-2

Louisiana: June 8-9

Maine: June 1-2

Maryland: June 1 and 8, July 4

Massachusetts: June 1-2 (freshwater), June 15-16 (saltwater)

Michigan: June 8-9

Minnesota: June 7-9 (MN residents 16 and older fish free with children younger than 16)

Missouri; June 8-9

Mississippi: June 1-2

Montana: June 15-16

North Carolina: July 4

North Dakota: June 1-2, December 28-29 (free ice fishing days)

Nebraska: May 18 (free fishing/free park entry day)

New Hampshire: June 1

New Jersey: June 8, October 19

New Mexico: June 1

New York: June 29-30, September 28, November 11

Nevada: June 8

Ohio: May 4-5

Oklahoma: June 1-2

Oregon: June 1-2, August 17-18, November 29-30

Pennsylvania: July 4

Rhode Island: May 4-5 (freshwater only)

South Carolina: July 4

South Dakota: May 18-19

Tennessee: June 8

Texas: June 1

Utah: June 8

Virginia: June 7-9

Vermont: June 8

Washington: June 8-9

Wisconsin: June 1-2

West Virginia: June 8-9

Wyoming: June 1

Please note that the individual states may place certain restrictions and other regulations may apply, so be sure to contact your state fish and wildlife agency for specific state regulations.