What Sets Galeon Apart from Other Yachts
With so much information and choices today, shopping for big-ticket items such as boats and yachts can sometimes be challenging. There are many brands, makes, models, and specific vessels for various activities on the water. However, with Galeon Yachts, there are key differences that stand out and set our yachts apart from others, as you will soon discover below.
Assessing Size: Yachts Vs. Boats

Starting with the fundamentals—one subject new boat or yacht seekers question is when comparing yachts versus boats is, what is the difference? Although the main distinction is size, there are some exceptions to the rule since a vessel is typically classified as a yacht when it reaches 50 feet or more.

For instance, Galeon is well-known as a yacht brand—yet carries a

Grand Touring Outboard (GTO)

line that mirrors the same quality, cutting-edge design, and innovative technology as in larger Galeon models, just more compact. Even on the award-winning

Galeon 325 GTO

, which is 32'7" in length, this sporty vessel is packed with features that allow for comfort and entertaining aboard and is also ideal for overnighting—not many boats of this size have the luxurious amenities of a Galeon.

Exceptional Craftmanship

Another important point when it comes to purchasing a yacht is quality. And excellence is something that Galeon Yachts has mastered. Galeon utilizes a forward-thinking approach, infusing a process of vertical integration along with a beautifully handcrafted distinction to bring its wide array of vessels to life. From the beginning stages of the design process to utilizing top-of-the-line materials such as carbon fiber and through the finishing touches and amenities, allowing for hours of entertainment aboard, Galeon goes above and beyond to create the best products. See what happens behind the scenes in our

factory tour video

.

Intriguing Design

Innovative and daring designs that are well-executed result in satisfaction—and with Galeon, there's no question about fusing the latest innovations with superlative splendor both on the outside and in. Galeon partners with only the best to make the most of its design on all its available models. From panoramic sunroofs to extendable main decks, concepts from Tony Castro Yacht Design also elevate the process with an emphasis on comfort, luxury, and entertainment, which enables life aboard these stunning creations to be relaxing and virtually effortless. For instance, discover all the remarkable features the

Galeon 650 SKY

has.

Galeon Yachts: More About the Company

Galeon Yachts is a well-respected name in the yachting industry and has been for more than 40 years. This privately-owned company has developed some of the world's most beautiful yachts from 32' to 80' in its state-of-the-art facilities in Wiślina and Straszyn, Poland. With a forward-thinking approach, a mission to redefine what on-the-water luxury means, and the most dedicated team of designers, engineers, and shipwrights passionate about what they do, Galeon excels in producing only the finest-quality vessels enjoyed by yacht owners worldwide.

Going Forward

In addition to performance and onboard entertaining, with years of expertise, impeccable quality, functionality, and versatility, Galeon sets a high standard for the industry to beat compared to other brands. Discover even more reasons yourself. View the entire lineup of Galeon models

online

, or experience one in person today!
Want to Learn More About Galeon Yachts?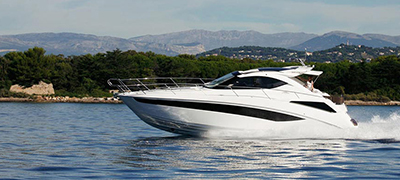 Handcrafted Excellence
Galeon designs assure unparalleled modern styling and convenience. Leading technology and design, makes each yacht exceptional.
Get on the Water
Finance Your Boat
When it comes to financing the boat you've always wanted, our team has you covered.
Explore Finance Options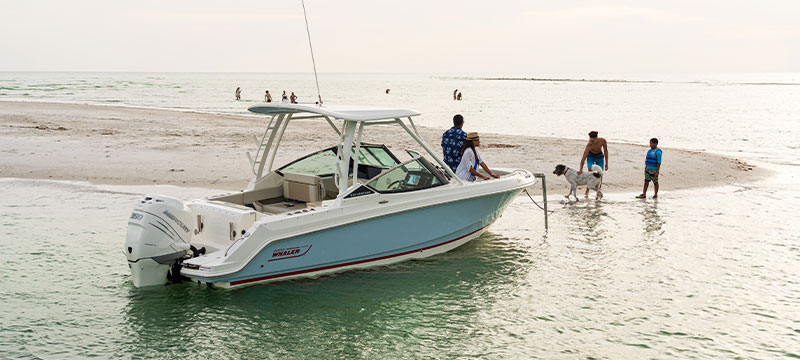 Find Your Perfect Boat Today
Start your search for the boat that has it all for your lifestyle! Explore premium new, used, and brokerage boats.
Search Boats