Featured Recipes from South Seas Island Resort
Whether you're entertaining guests or dining solo, we've got two of the most savory and easy-to-prepare meal recipes for your next evening on the water. With a mix of juicy sweet fruit combined with salted gourmet nuts and cheeses, the Grilled Peach Salad will for sure be a favorite. For something a little more festive, our Greek style Couscous of peppers, onions and fresh dill will leave you wanting seconds! Enjoy all these flavors brought to you from our talented Lead Cook at South Seas Island Resort, Andrew Jaime.
Grilled Peach and Burrata Salad

Serves 4-6. You will need:

3 peaches
1 bag of mixed greens
6 strawberries halved
20 blueberries
1 cup candied pecans
6 each burrata
4 tsp olive oil
6 oz balsamic glaze
1/2 cup balsamic vinegar
Salt and pepper to taste

Preparation: Cut peaches in half and remove pit. Place peaches on grill for 3 to 4 minutes, rotating for nice grill marks (you want them to be slightly charred). Slice peaches into quarters. Plate mixed greens first. Evenly distribute berries throughout the salad. Cut burrata by slicing and "X" on the top. Place pecans in the center of the burrata. Drizzle olive oil over the burrata along with balsamic glaze. Dress salad with vinaigrette. Add salt and pepper to taste.

Greek-Style Couscous

6 cups of chicken stock
3 cups of couscous
2 cucumbers
5 sweet peppers
1 red onion
2 oz fresh dill
2 oz lemon juice
1/2 cup Greek dressing
1/2 cup feta cheese
1/2 cup Greek yogurt

To prepare the couscous, first get the chicken stock to a soft boil. Add couscous and add a little extra olive oil to avoid lumps. Stir occasionally. Remove couscous, place on sheet tray, and place in the refrigerator for chilling. Dice cucumbers, red onion, and sweet peppers. Next, mix the couscous and all other ingredients in a large mixing bowl. Add salt and pepper for taste and serve.
These recipes were provided by:
Andrew Jaime: Lead Cook & Back of House Supervisor at Harborside Restaurant Bar & Grill
Let's Get Social 👍
We want to hear from you! Share your boating photos and videos. You may even get featured on one of our channels, along with the latest news from across the boating industry, fun stories from fellow boating enthusiasts, and much more!
Follow Us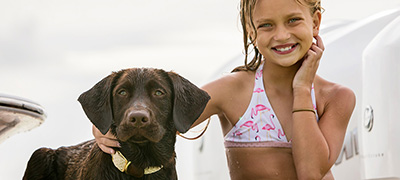 The Boating Lifestyles Blog
Browse hundreds of articles on customer stories, tips, trends, gear, amazing boating locations and more found in our MarineMax Lifestyles Blog.
Explore Boating Articles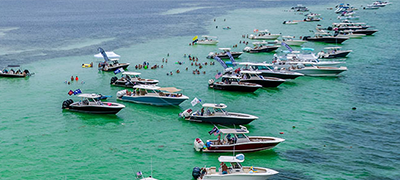 Find an Event
All this fun is exhausting – NOT! We love creating entertaining and exciting customer events. Each is designed to make boating the most remarkable leisure activity in your life.
Find an Event