$0 Down Sale
It's the $0 Down Sale at MarineMax Grand Lake, where you can get a great deal on a new Crest pontoon. For a limited time only, take advantage of zero money down and no payments for 90 days on any new Crest up to $70,000*.
Caliber

The Crest Caliber brings new definition to pontoon boats through irresistible sport and styling. Engineered to amaze, the Caliber is agile and fierce on the water. Its design is loud and unique, while its quality and refinement is unmistakably Crest.

Classic

A place of comfort and escape, the Classic is defined by its unique silhouette and unrelenting demand for attention. Distinct, hand-crafted rails lend to the beauty of this boat, demanding it be known by one name, Classic.

Crest I Series

Simple and superior don't often define the same product, but the Crest I is an undeniable exception. From the bow to the stern and everything in between, Crest I is built with a high standard of excellence – making it top in its class. Plenty of configuration and styling options only add to its desirability. Everything Crest stands for is embodied in the Crest I – craftsmanship, technology, and durability. It's all there.

Crest II Series

Since 1957, the Crest II has been the best value on the water, while at the same time meeting every standard set forth by Crest's six pillars of excellence. Grab your fishing gear and hit the water, take the whole family for a cruise, or find a favorite spot and turn up the volume on the audio system. However you enjoy spending the day, you'll enjoy it even more on a Crest II.
*$0 down payment when total purchase price of Crest Pontoon boat purchased is $70,000 or less and with a FICO score of 740 or better. Subject to credit approval. Purchases price does not includes tax, title and license. Offer only available at MarineMax Grand Lake and ends September 30th, 2019. Offer is only good with the purchase of an eligible new Crest Pontoon boat that is currently available in MarineMax inventory and has never been sold or titled before. Must pay in full and take delivery by September 30th, 2019. No cash value. Void where prohibited. Non-transferable and non-assignable. May not be used against previous purchases. May not be combined with any other offers and coupons.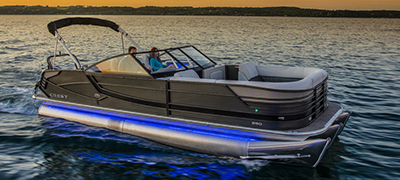 Pontoon Excellence
Four chambered pontoons, durable aluminum alloys, stainless steel hardware, strong seating structures, fiberglass helms, and highly secured marine electrical systems ensure boaters not only have a fun time on their Crest Pontoon, but have a tremendous waterborne experience.
Get on the Water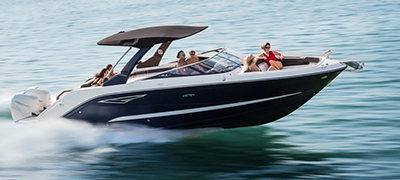 The Fishing Lifestyle
Read all about the latest fishing news. From the newest models and innovations to adventures taken by fellow boating enthusiasts.
Get Bloggin'