Top 5 Benefit of Outboards
If you have been on the fence about what type of boat motor is best, we've uncovered some facts, features, and benefits of these masters of acceleration that may surprise you. From speed to sound, we have it covered in the five benefits below:
1. Sound:

Shhh, is that a motor out there? As big and as powerful as outboards tend to be, these puppies are quiet. Even a boat with triple or quad outboards doesn't make that much noise out of the water. With the latest technology, the noise level is practically non-existent.

2. Less Fumes:

The air on the water is a bit fresher with outboard motors. Glide along the waves knowing that using the latest outboards will be kinder to the environment. And with fewer fumes than older two-stroke models, the fish and the birds will thank you.

3. They Have Lift:

Three, two, one… lift up! If you're trekking through shallow water or want to get close to the beach or shore of your choice, lifting these big guys out of the water is as easy as a touch of a button. From only slightly, to all the way up, boating is simplified with outboards.

4. Easy to Maintain:

Who doesn't love easy maintenance? Outboards are simple to maintain and flush out. Besides that, there are easy to get to in case service is needed. If service is needed, don't forget to download the MarineMax App and make your appointment.

5. More Room on the Boat:

Enjoy more boat or yacht space for entertaining or relaxing—all thanks to having the motors on the outside of the boat. Having an inboard requires more room on the inside of the boat and additional maintenance, thus making outboards a fantastic boat-propelling alternative. Want to check out some great outboards? See what Mercury has to offer here.
Check out Boating Tips with Captain Nick and Captain Keith and find out even more in the video below!
Page Position for video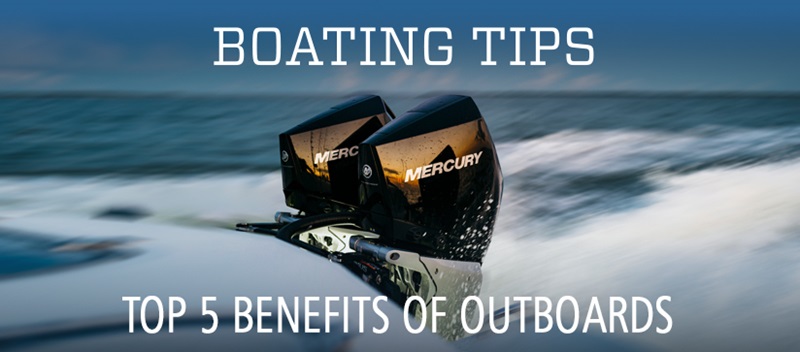 Play video for Top 5 Benefits of Outboards
Boating Tips
This video is all about finding an outboard that is the best fit for you—as they are not "one-size-fits-all." Watch as Captain Keith and Captain Nick discuss how to evaluate and pick the perfect one.
Want to learn more about MarineMax? Connect with us!