Boating Tips: Fishing Boats
Welcome to Boating Tips with MarineMax! Fishing boats come in many different shapes and sizes, how do you know where to start? Captain Nick is breaking them down so that you can find the right fish catching machine for you. Ask your questions, make comments, and learn a thing or two about your favorite outdoor activity.
Play video for Fishing Boats
Boating Tips
Ready to head into the blue to chase pelagics? Or are you looking to fish the local intercoastal? Captain Nick breaks down the best fishing boats in this week's Boating Tips episode.
While there may be numerous differences between an offshore fishing boat, bay boat, flats skiff, fishing pontoon and others, there are some common features that you'll find on almost any fishing boat.
Fishing Boat Features
Whether you're offshore or inshore, fresh or salt, here are some of the most common features you'll find on a fishing boat.
Rod holders - Specialized tubes that allow an angler to rest their rod in an upright position waiting for a bite
Livewell - A special compartment in the boat that siphons water from the ocean or lake and oxygenates it to keep your bait alive
Fish boxes - These compartments are meant to be filled with ice creating the perfect place to keep your catch-of-the-day fresh on the ride home
Outboard power - Nearly all fishing boats are outboard powered. The ability to trim the motor up enables vessels to get into shallow water, yet still provide the power to go where you want
Fishing Boat Accessories
While the above items are common to nearly all fishing boats, the listed accessories below are commonly found on these vessels as well. They can make your day of fishing better.
Bottom machine/GPS - Sonar and GPS units are an add-on that can be very helpful to an angler. These electronics can display information such as water temperature and depth, bottom topography, GPS location of your vessel and track, fish activity on the bottom and more
Freshwater washdown - A clean boat is a happy boat, and when you're fishing and dealing with fresh or frozen bait, things can sometimes get messy. A freshwater washdown system lets you clean your boat throughout the day.
Trolling Motor - A trolling motor is a bow mounted (although in some cases they can be transom mounted) electric motor that lets anglers stealthily sneak up on fish as it is much quieter than an outboard. Some models also come with the ability to function as an electronic anchor, holding the vessel's position via GPS at the push of a button
Saltwater vs Freshwater Fishing Boats
Both of these vessels will have similar features as mentioned above, they may even have some of the same accessories too. However, the main difference is performance. A saltwater fishing boat can perform well in a freshwater environment, however, the same cannot be said about a freshwater boat in saltwater.
A boat that is specifically designed for freshwater use will face corrosion issues in the salt, saltwater is one of the harshest environments on the planet. Additionally, a saltwater boat which is designed for offshore and coastal environments typically is built to handle rougher conditions than a freshwater boat designed for days on a lake.
Choosing a Fishing Boat
From center consoles to large, sleep aboard cabin cruisers, there are fishing boats for almost any level of angler. The operative question as you move forward with your angling pursuits is, "
Where do I Want to Fish?
". If you have further questions, you can read our
MarineMax fishing blog
, or stop by your local MarineMax dealership and our staff would be happy to help. Tight lines!
NEED MORE BOATING NEWS?
You can see or hear more episodes of Boating Tips and our sister podcast, From the Helm Boating Broadcast, on The MarineMax Blog, accessible on the website or via mobile phone through the MarineMax App. You can also access more episodes on Amazon, Spotify, Google Podcast, Apple Podcast, or wherever you get your podcast news. See you out on the water!
Have an Idea for Our Next Episode? Submit It Here!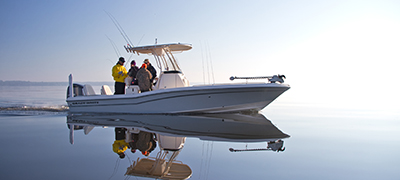 Ready to Get Fishing?
Check out the fishing boats available in our inventory now!
Get Fishing
Let's Get Social 👍
We want to hear from you! Share your boating photos and videos. You may even get featured on one of our channels, along with the latest news from across the boating industry, fun stories from fellow boating enthusiasts, and much more!
Follow Us
The Fishing Lifestyle
Read all about the latest fishing news. From the newest models and innovations to adventures taken by fellow boating enthusiasts.
Get Bloggin'