A Sea of Change in Pontoon Boats
Innovative triple-tube designs and ever higher horsepower may have unleashed the true potential of the pontoon, but twin-tube models will always have their place.
By Jeff Hemmel
In case you haven't noticed, pontoon boats are cool. I may have grown up dismissing them as little more than cocktail-cruise platforms for senior citizens but that opinion changed. I remember the moment. Setting up to do a magazine shootout on a class of boats I had never previously covered, one manufacturer's rep came screaming into view aboard the brand's latest model, outfitted with triple pontoons below and a surprisingly high horsepower outboard on the transom.

Watching the boat tear up our test lake's early morning glass, my reaction to the speed alone was visceral, but then he cranked the wheel and performed a high-speed corner that would do a slalom water skier proud. I remember thinking two things. One, I clearly knew very little about the "modern" pontoon boat market. And two, the next several hours suddenly looked like one heck of a lot of fun.

To be fair, pontoons still and will likely always excel at the putt-putt cocktail cruise. Their living room-like topsides and seemingly endless floorplans are tailor made for relaxation, comfort and socializing. While parallel couches remain the standard in the bow, aft layouts have evolved to include features like rear-facing loungers, multi-position sunbed/lounge combos, even actual bars (I'm looking at you,

Bennington

23 RBR).

Pontoons also continue to make excellent fishing platforms, with numerous models, like

Harris

' Cruiser LX 200 Fish or

Crest's

Classic LX Fish, outfitted for the task with pedestal fishing chairs, livewells and rod holders. The intoxicating mix of handling and horsepower I witnessed that morning, however, has arguably forever changed the market.

The former came to the forefront with the introduction of performance-oriented strakes and foils, added to previously simple pontoon "logs" to generate lift at the bow, reduce drag and allow craft to corner without the old-school, outboard heel that plagued early models. The latter came as performance-hungry enthusiasts, in addition to those who just desired greater passenger carrying capacity, began to embrace ever greater power.

The shift to larger platforms and heavier, higher-powered outboards (even the occasional sterndrive) required larger tube diameters and a third, center pontoon to provide adequate buoyancy and safely carry the load. These higher horsepower offerings enabled pontoons to reach previously unheard of speeds and, in reciprocal fashion, inspired new handling features to both exploit and harness the newfound power.

Look at MarineMax's premier pontoon brands —

Harris

,

Crest

, and

Bennington

— and you'll note a familiar theme. All offer high-end performance innovations designed to exploit that third, center tube. Performance strake designs are a starting point. Tube sizes and position also come into play.

Crest pairs 25" outer tubes with a 26" center pontoon on its Caribbean Platinum 250, bringing a touch of deadrise angle to improve handling. Bennington's Elliptical Sport Package (ESP) goes so far as to offer a 32", elliptically shaped center pontoon paired with smaller, 25" outer pontoons, truly mimicking a V-hull's running surface and resulting in a pronounced inside lean through the corners. And then there's Harris' flagship, twin-engine Crowne 270 TE. It features 27" diameter pontoons and a proprietary lifting strake design that promises to similarly produce V-hull-like handling, while making the most of massive horsepower potential on the transom. (As those twin engines can be coupled to a joystick and some truly awesome software, docking also becomes child's play even in stiff crosswinds.)

Triple pontoon models have even brought pontoons into markets they seldom ventured into in the past. The larger diameter, triple pontoon design provides the buoyancy, stability and handling long needed to tackle rougher coastal waters. The higher speed potential of triple pontoon boats also opens the doors to higher-speed watersports like slalom skiing.

All this is not to say there's no longer a place for more traditional, twin 'toon designs. In fact, they remain a huge portion of the market, dominating the introductory categories as well as a majority of midrange offerings. Twin pontoon boats are great for a wide variety of horsepower applications, both small and midrange length models, and consumers who prefer to casually cruise, stretch their purchase and fuel budgets, or take kids and friends to their favorite fishing hole rather than rail through a 50 mph turn. And like their high-power brethren, those same strakes and handling additions can produce surprisingly spirited performance. Several manufacturers ballparked 21' to 25' and 140-150 horsepower as the point to which a triple pontoon's advantages begin to win out over a twin tube design, but clearly there's wiggle room on both sides.

I'll ponder the question more the next time I'm out on the water on a pontoon. But first, excuse me if I bring it up to speed then rail through a high-speed turn. I've found the reactions are priceless.
Complete the form below to get connected with a MarineMax pontoon expert and find the right boat for you.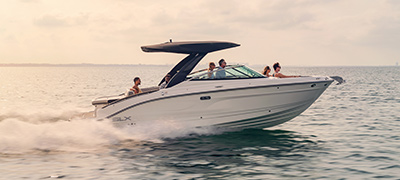 Getting Started is Easy!
Staying safe on the water starts here. Enjoy the journey as you explore different types of boats, activities, and much more.
Discover the world of boating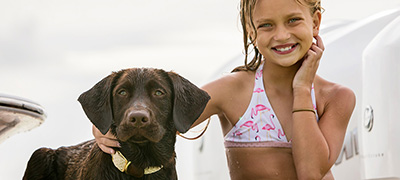 The Boating Lifestyles Blog
Browse hundreds of articles on customer stories, tips, trends, gear, amazing boating locations and more found in our Blog.
Explore Boating Articles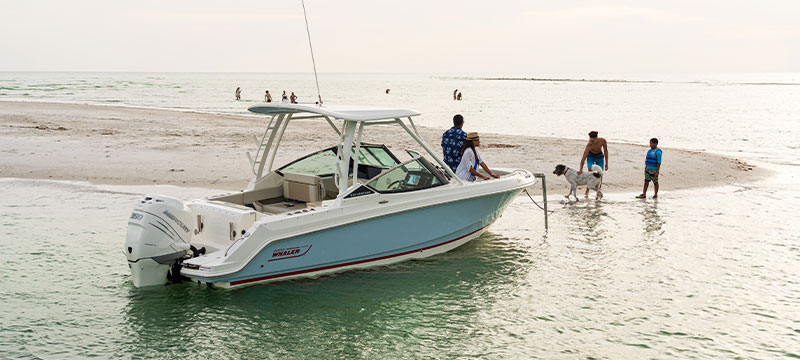 Find Your Perfect Boat Today
Start your search for the boat that has it all for your lifestyle! Explore premium new, used, and brokerage boats.
Search Boats