MarineMax Miami
The team at MarineMax Miami are pleased to have been able to serve the Miami-Dade boating community for over 3-decades, providing unparalleled personal customer service. We are committed to providing you with top-notch service and helping you make the most of your time out on the water. Because when you're happy, so are we.

Page Position for video
Play video for We're Committed to Helping You Have Fun on Your Boat
We love creating entertaining and exciting customer events. Each is designed to make boating the most remarkable leisure activity in your life. These events include owner's Getaways!® to local hot spots, customer appreciation parties, proprietary courses such as Owners' Orientation, Women on Water®, Kids in Boating and more.
MarineMax Miami is proud to be the Miami-Dade County area's authorized Azimut, Galeon Yachts, Ocean Alexander, Aquila, Sea Ray, Grady-White and Scout dealership. MarineMax Miami is a full-service retail sales, marine repair and service facility. We are ready to prove to you that we are your best choice for all your boating needs.
We are conveniently located at the intersection of Northeast 79th Street and Northeast 7th Avenue. From Biscayne Bay to the Everglades and the Florida Keys Miami has every type of boating lifestyle from cruising the bay on fun loving 19-foot runabouts like the Sea Ray SPX 190 to enjoying the ultimate in luxury yachting on a new 135-foot Ocean Alexander. Miami is also a great jumping-off spot for exciting destinations in the Caribbean and beyond. The Bimini Big Game Resort and Yacht Club is only 50 miles from Biscayne Bay and the Marina Hemingway in Cuba and the resorts of Varadero are a day away for the typical power boat.
We welcome you to our boating family and community!
Play video for Helping Make Your Dreams Reality
We've sold a lot of boats the past 20 years, so our experts know how to finance and protect your boating dreams. Our partnerships with the industry's leading lenders bring you the most competitive financing and insurance solutions available.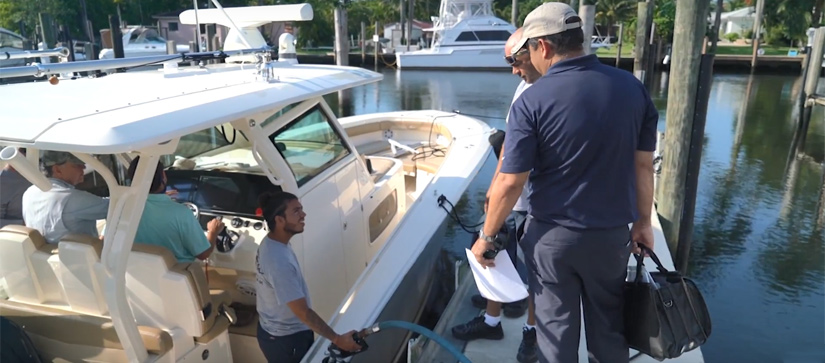 Play video for Taking Care of Your Boat
Our customer commitment extends beyond creating a lifetime of memories on the water. We're there to help with service, routine maintenance, engine upgrades, storage options and more. From providing world-class service with factory-certified technicians to finding marina slips and dry storage locations, your MarineMax team will always be there.
The Boating Lifestyle in Miami
Local boating enthusiasts enjoy cruising the water along Miami's busy downtown and following the Intracoastal Waterway to enjoy the dockside dining in Fort Lauderdale and Pompano. The Miami Marina gives boaters access to the excitement of South Beach and its many restaurants and shops. Another MarineMax advantage, owners can join Getaways!™ on adventures guided by the experienced captains of MarineMax Miami.

The waters in and around Miami supports a wide variety of gamefish species. From fly fishing in the Everglades, inshore fishing in Florida Bay to fantastic pelagic predictors just offshore.

There are myriad of fun boating activities to do on the waters around Miami, explore the breathtakingly beautiful flora and fauna on Biscayne Bay's shores. Visit the wide-range of dock and dine restaurants as well as access the shopping around town. A popular destination is Haulover Sandbar where bikinis, pulsating music and mesmerizing crystal blue water combine to create highly entertaining celebrations of the boating lifestyle.

For more ideas of where to boat in the areas waters, stop by MarineMax Miami and talk to one of our experienced sales professionals. They love to share their boating adventures.

See Our Address, Hours and Team
Find Your Perfect Boat

Boating with MarineMax will change your life, and in a very good way. Start searching for your dream boat today. We carry a large selection of premium boat brands ranging from extra-fun sport boats to luxury yachts. We make it easy to narrow your search and find your perfect boat.