Page Position for video
Register Your Account

Tap SIGN UP
Read over the term and conditions, then select AGREE
Enter your first name, last name, email, and phone number (s) into the fields and click Register.
An email with a temporary password will be sent to your email
Log into the email address associated with your account to view your temporary password

Set a New Password

Sign in with your email and temporary password
Enter a new password into the New Password and confirm New Password fields.
Tap Change
Sign in with your new password
Passwords must be at least 8 characters long with at least 1 capital letter and 1 number or special character

Create Your Boat Profile

Tap the camera icon to take or upload a picture of your boat (optional)
Enter your boat's brand, year, model, hull number, etc. into the fields (*indicates required data)
Enter the location where your boat will be stored when requesting service
Tap NEXT to enter the home screen

Add Your Payment Method

Tap the menu
Tap Credit Card
Tap Add Payment Method
Enter your card information and billing address, then click add

Submit Your Service Request

Verify your boat's location and change if needed
Select the service type and service category for your request
Tap the calendar icons and select your expected start date and expected completion dates from the calendars
Add a description of your service request
Tap the boat icons then take a picture for your request
Tap NEXT to enter the request summary screen
Tap SUBMIT to submit your request to a MarineMax Service Advisor
Get Geared Up!
If you are searching for the best gear for your days on the water or parts to tweak your boat, then look no further.
Let's Get Accessorized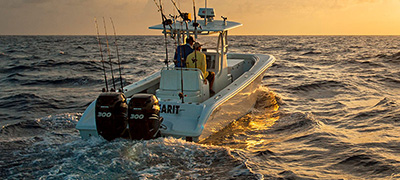 Keeping You On the Water
From providing world-class service with factory-certified technicians to finding marina slips and dry storage locations, your MarineMax team will always be there.
Learn More
Get Pumped to Repower!
You can choose to rebuild your existing engine, or get a new one. Either way this cost-efficient option is a great alternative to buying a new boat or continuing expensive maintenance on an aging engine. 
Add Some Pep to My Engine