Your Local Store
MarineMax Fort Myers
Sales & Marina Office
Monday:

8:00 AM - 6:00 PM

Tuesday:

8:00 AM - 6:00 PM

Wednesday:

8:00 AM - 6:00 PM

Thursday:

8:00 AM - 6:00 PM

Friday:

8:00 AM - 6:00 PM

Saturday:

9:00 AM - 5:00 PM

Sunday:

12:00 PM - 4:00 PM
Service & Parts Department
Monday:

8:00 AM - 5:00 PM

Tuesday:

8:00 AM - 5:00 PM

Wednesday:

8:00 AM - 5:00 PM

Thursday:

8:00 AM - 5:00 PM

Friday:

8:00 AM - 5:00 PM

Saturday:

8:00 AM - 12:00 PM

Sunday:

Closed
Fuel Dock & Ship Store
Monday:

8:00 AM - 6:00 PM

Tuesday:

8:00 AM - 6:00 PM

Wednesday:

8:00 AM - 6:00 PM

Thursday:

8:00 AM - 6:00 PM

Friday:

8:00 AM - 6:00 PM

Saturday:

8:00 AM - 6:00 PM

Sunday:

8:00 AM - 6:00 PM
Marina Operation
Monday:

8:00 AM - 4:30 PM

Tuesday:

8:00 AM - 4:30 PM

Wednesday:

8:00 AM - 4:30 PM

Thursday:

8:00 AM - 4:30 PM

Friday:

8:00 AM - 4:30 PM

Saturday:

8:00 AM - 4:30 PM

Sunday:

8:00 AM - 4:30 PM
14030 McGregor Blvd
Fort Myers, Florida 33919
MarineMax Fort Myers
Serving The City of Palms Area for Over 2 Decades
MarineMax Fort Myers is a full-service marina, retail sales, marine repair, and service facility. It is conveniently located on Deep Lagoon at 14030 McGregor Boulevard in Fort Myers. MarineMax Fort Myers is pleased to have been able to serve the Fort Myers area.
About this Marina

Our marina features state-of-the-art amenities, including a full-service fuel dock, boat rentals, and an accessories store stocked with all the essentials you need for a day on the water. We offer both wet and dry slips to accommodate boats of all sizes, and our friendly and knowledgeable staff is always on hand to assist with any boating needs you may have.

In addition to our exceptional boating facilities, our Fort Myers Marina is also home to a number of restaurants and shops, making it the perfect destination for a day out on the water. Whether you're looking to grab a bite to eat, do a little shopping, or just enjoy the stunning views of the Caloosahatchee River, you'll find everything you need right here at our very own marina.

At our Fort Myers Marina, we pride ourselves on providing our guests with a truly exceptional boating experience for over 25 years. Whether you're a seasoned boater or just getting started, we're here to help you make the most of your time on the water. So why wait? Come visit us today and discover all that Fort Myers has to offer!


Page Position for Video
Play video for Your Full-Service Boat and Yacht Marina
MarineMax Fort Myers Marina
Our Marina Manager walks us through the amenities and benefits of storing your boat at MarineMax Fort Myers Marina. Learn about how you can use an app to request your boat to be ready with ice on board and about available wet slips for larger boats.
Storage Options MarineMax Fort Myers
Store your boat at MarineMax Fort Myers
The MarineMax Fort Myers at Deep Lagoon Marina offers new beautifully engineered high and dry storage that can accommodate boats up to 50 feet. Our serene setting and well-protected floating docks offer wet slips for yachts up to 85'.
Storage Options MarineMax Fort Myers
High & Dry Outdoor Storage
High & Dry Outdoor Storage will keep your boat safely stored on a rack with other boats.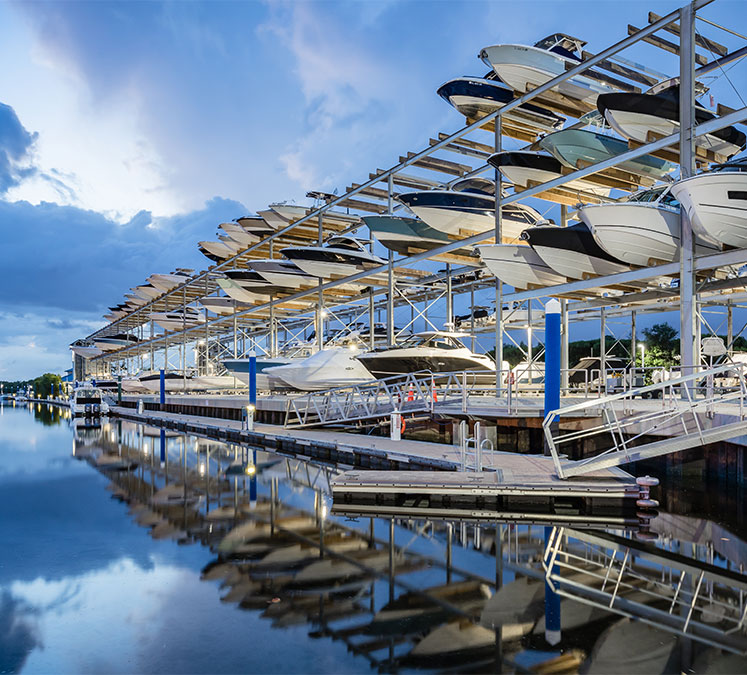 Storage Options MarineMax Fort Myers
In-Water Storage
Keep your boat anchored down and safe in-between travels with our in-water dock storage. Your boat will be safe and secure on our docks with easy access to hit the water in no time!
Shop Boating Accessories:

Find all your boating needs at our one-stop boat accessories store full of the necessary equipment and supplies for your boat. Work with our knowledgeable staff who can assist with our wide range of products. From safety gear to water sports equipment and navigation tools, our store offers a wide range of products to enhance your boating experience. Shop with us today!
Services At MarineMax Fort Myers
Onsite Marina Services At MarineMax Fort Myers
MarineMax Fort Myers is a full-service dealership, providing the area's highest quality marine repair and service. Plus, our innovative platform, BoatCloud, allows you to schedule when your boat is put in the water for your arrival, and you can even ask for ice to be onboard!
Our MarineMax team consists of highly skilled professionals who will repair your boat's fiberglass and composite-related damages as soon as possible so you can get back on the water in no time.
Boat Fiberglass Repair and Composites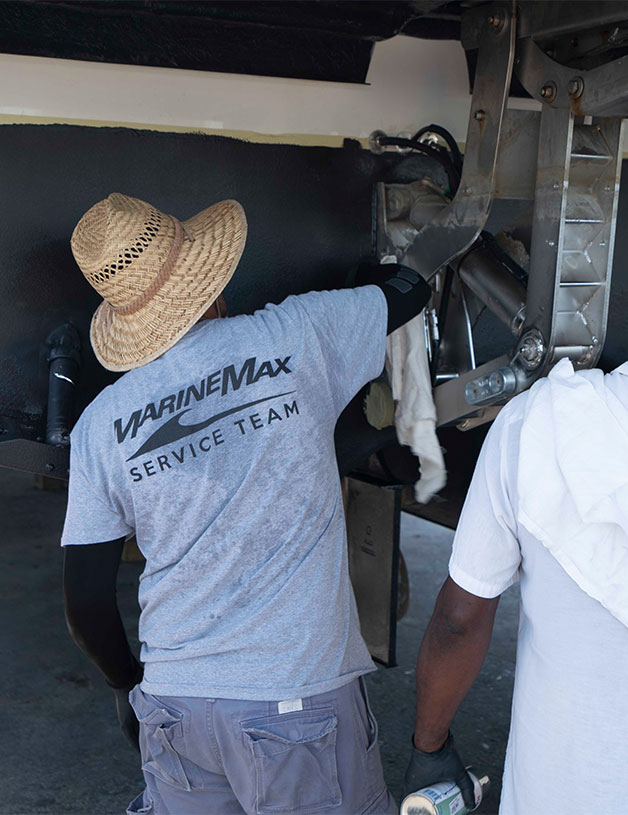 Keep your whole vessel running like new with our highly skilled MarineMax mechanics and extensive services. We provide a full-service approach to all your marine mechanical service needs. Simplify your boat maintenance. Our expert marine mechanics provide quality services for all the systems on your boat, so you spend more time boating. maintenance. Our expert marine mechanics provide quality services for all the systems on your boat, so you spend more time boating.
Boat Mechanical System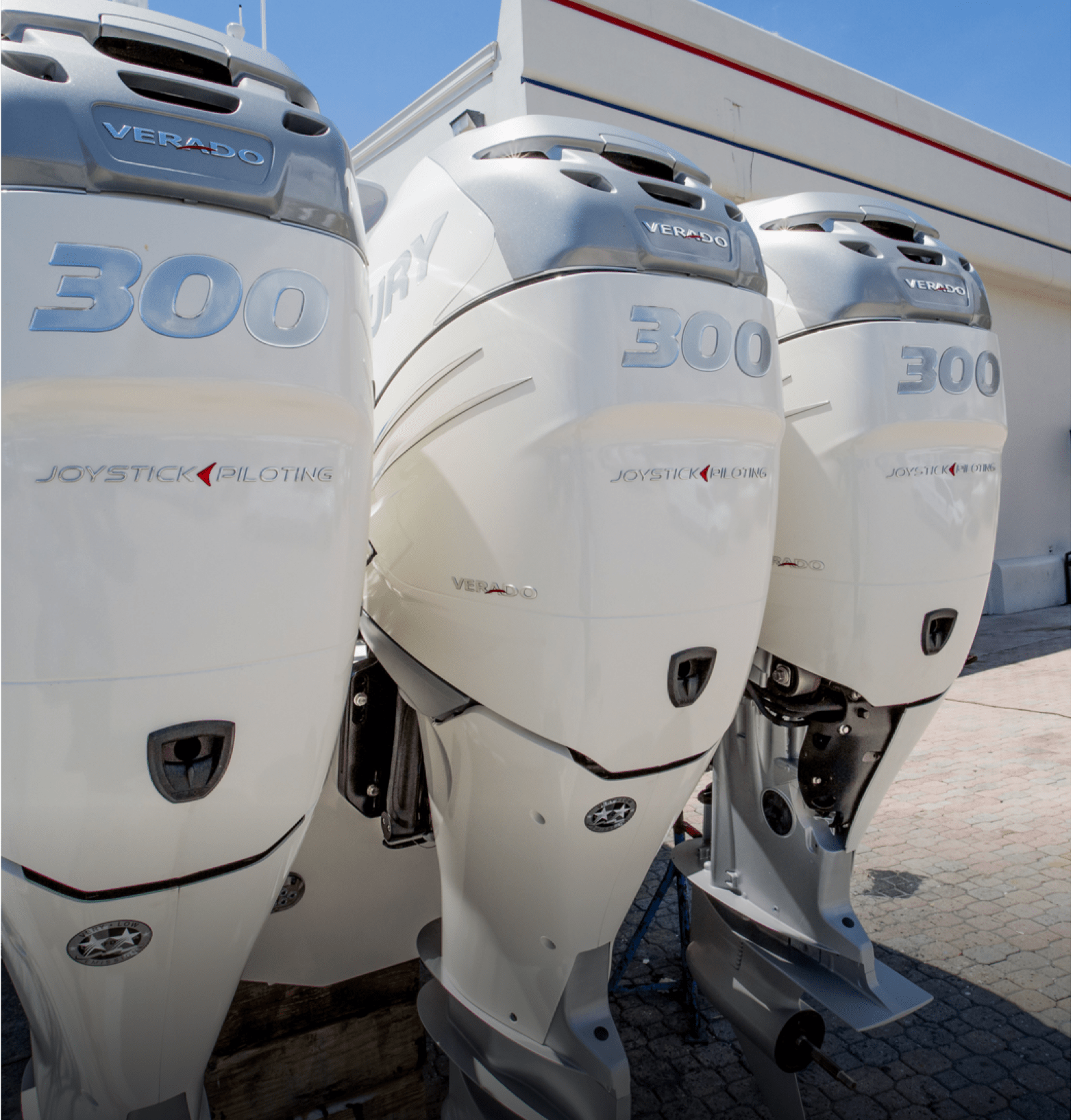 Boats are designed to take a beating! A boat's engine is not. If you love your boat but the engine's a goner, repowering is an affordable option. MarineMax's experts are here for your boat engine repair needs!
Boat Engine Repair
Let our MarineMax team repair all your boating equipment and technology. From navigation system repair to system installments, MarineMax has you covered.
Boat Technology Services
Annual services are the perfect way to check up on your boat to prepare for every boating season.
Annual Services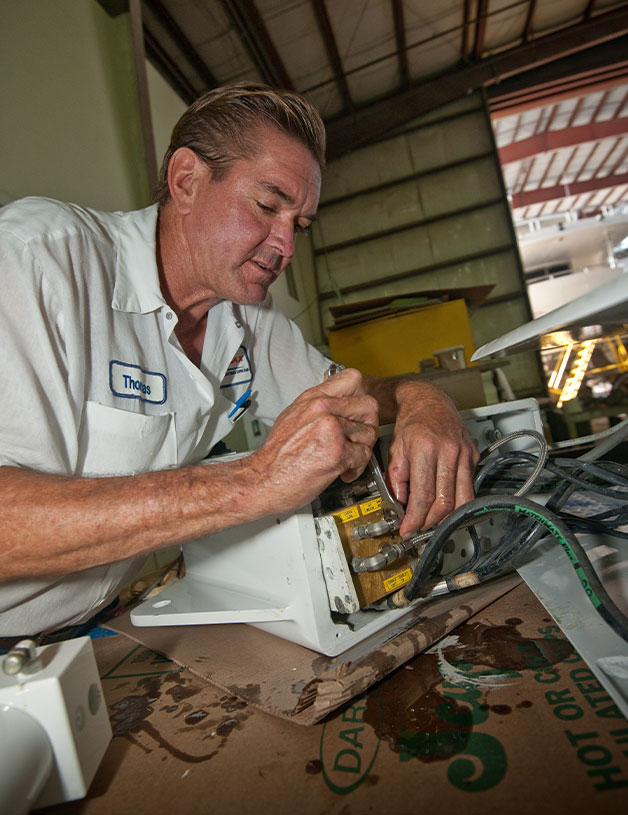 Schedule routine boat maintenance and boat repair service to ensure a smooth transition to creating uninterrupted memories on the water all season long.
Boat Maintenance and Repair
Page Position for
MarineMax Fort Myers Marina
(239) 481-8200
Monday - Sunday
8am - 6pm EST
Shop Boats For Sale
Our inventory includes high-end brands such as Azimut, Benetti, Galeon Yachts, Ocean Alexander, Aquila, Sea Ray, MJM Yachts, and Boston Whaler offering a wide range of boats and yachts that cater to diverse boating lifestyles. When you purchase a boat from MarineMax Fort Myers, it is the beginning of our commitment to you as our customer. At delivery, your new boat is fully-fueled, all the lines are aboard, and U.S.C.G. safety equipment is provided. You can simply provision your boat and begin living the boating lifestyle you desire.


Events near Fort Myers
Join Us for Events and Classes!
Discover The Fort Myers Boating Lifestyle
There are myriads of fun boating activities to do on the waters around Fort Myers; explore the breathtakingly beautiful flora and fauna on Lee County beaches. Visit the wide range of dock & dine restaurants and access the upscale shopping around town. A popular destination is Picnic Island off the coast of Sanibel Island, where many MarineMax team members and customers gather on weekends for the lively and highly entertaining celebrations of the boating lifestyle. The year-round boating in the relaxed coastal environment provides the jumping-off point to all the "bucket list" destinations of the Gulf of Mexico and the Caribbean, including the Florida Keys, the Bahamas, and the Tortugas.

Our MarineMax Fort Myers team members and their customers are true boating enthusiasts. They relish their time on the waters that are practically everywhere you turn in Bay County and Lee County. For more ideas of where to boat in the area's waters, stop by MarineMax Fort Myers and talk to one of our team members.
Finance Your Boat
When it comes to financing the boat you've always wanted, our team has you covered.
Explore Finance Options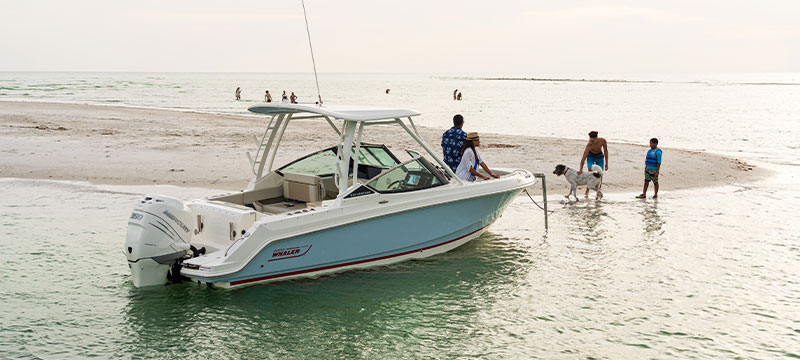 Find Your Perfect Boat Today
Start your search for the boat that has it all for your lifestyle! Explore premium new, used, and brokerage boats.
Search Boats
Boating Made Easy
Sign up for My MarineMax to start maintaining your boating lifestyle with ease.
Sign Up Now