What to Look For When Buying A Pontoon Boat
Pontoons have gone from slow-speed cruisers to arguably the most versatile boats on the market. Here's how to pick one that matches your needs and lifestyle.
By Jeff Hemmel
Pontoons came roaring out of the late 2000s to emerge as the hottest segment in the boating market. No longer just sunset cruisers, models showcased newfound performance and handling, doubled as watersports towboats, and even ventured into larger coastal waters. With bold exterior designs, ultra-plush interiors, and the latest in sound and lighting systems, they also became cutting-edge cool.
But with all these recent advancements—not to mention the seemingly endless variety of floorplans pontoon manufacturers offer—finding the right 'toon' can be a daunting process. Here's what to consider when buying a pontoon, as well as suggestions to find the perfect boat for you and your family.
Pontoon vs. Tritoon

Twin tube models, or traditional pontoons, have long carried everything from your grandparents' sunset cocktail cruise to a day on the water tubing with the kids or fishing with friends. Recent years, however, have seen a dramatic rise in the popularity of triple tube or tritoon models.
A third centrally located tube adds buoyancy and stability, allowing larger boats and greater passenger loads. Added buoyancy also enables tritoons to handle heavier, higher-horsepower engines and venture into larger bodies of water. The Harris Grand Mariner 230 is one of many crafts produced in twin and triple-tube configurations. With twin 25" diameter tubes, its capacity maxes out at 11 passengers/2,056 pounds and 200 units of horsepower. By comparison, a trio of 27" tubes increases the capacity to 13 passengers/2,874 pounds and 300 units of horsepower.
Many triple-tube configurations also produce more agile handling, allowing boats to corner with the characteristics of a V-hull. Crest's CP3+ Performance Package increases the diameter of the center tube to enhance this trait. Bennington's Elliptical Sport Package pairs 25" diameter round pontoon tubes with a 32" elliptically shaped center tube. The pairings result in exceptional stability, faster planning, and improved maneuverability.
That's not to say the traditional pontoon has no place in today's market. Twin tube boats are usually small-to-midsize, 200hp-and-lower models. They excel at cruising and fishing on calmer waters but still pack enough punch to tow skiers and tubers or occasionally cross large bodies of water. Lighter, twin-tube pontoon models are also easier to tow behind a vehicle and generally less expensive in terms of the sales price and seasonal fuel costs.
Freshwater vs. Saltwater

Today's pontoon boats are also increasingly built to handle a wider variety of water conditions. Triple tube configurations, larger pontoon diameters, more robust construction techniques, and higher-horsepower engines combine to make pontoon boating in larger areas of water a reality. Experts suggest looking for pontoons with minimum wall thicknesses of at least .090" and diameters of at least 25 inches to provide adequate stability, handle the impact of larger waves and support the higher-horsepower engines (generally 150hp and above) are recommended should conditions turn unfavorable.
More robust construction techniques also help a pontoon boat handle rougher conditions. Harris' continuous M-Brackets (attaching tubes to deck crossmembers) run the entire length of each tube to diminish torque and twist. Brands, including Premier, opts for only composite furniture frames throughout. Crest pontoons feature four separate, fully sealed chambers so that a puncture won't compromise the boat's seaworthiness. Bennington exclusively uses THRU-BOLT technology to attach the deck to the crossmember structure, limiting flex.
Additional features add longevity to boats used in saltwater. While aluminum pontoons aren't susceptible to typical rust, galvanic corrosion—a chemical reaction between dissimilar metals exposed to saltwater—can cause damage. Saltwater-specific packages add sacrificial anodes made of weaker metals like zinc to protect more valuable surfaces like aluminum or an outboard's lower unit. Other beneficial additions include watertight electrical connectors, aluminum under-deck shielding, sealed lifting strakes, and corrosion-proof fittings and hardware.
Boating Lifestyle
The types of activities you plan to enjoy on your pontoon also play a significant role, especially in terms of the floor plan and amenity selection. Cruisers may wish to optimize comfortable seating, coolers, food storage, and options like dinettes and cockpit tables. Partygoers likewise value seating but also a good sound system and mood-setting lighting packages. Anglers will want to dedicate a share of the floor plan to fishing seats, tackle and bait-prep stations, livewell, and rod storage. Watersports fans will benefit from a raised tow bar to elevate the towrope over the height of the motor, extended aft decks, and in-floor lockers that take advantage of the space in a center tube to store water toys.
And that, of course, is the true beauty of a pontoon. They offer features and combinations that seem only limited by your imagination. The Harris Crowne SL 270 has a floor plan option with a bar and barstools. Premier's Escalante has a second-story deck—not to mention a waterslide.
How will you outfit your pontoon?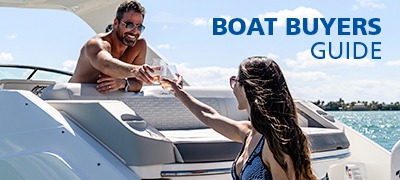 Boat Buyers Guide
Learn what to know before you buy with this useful guide.
Get the Guide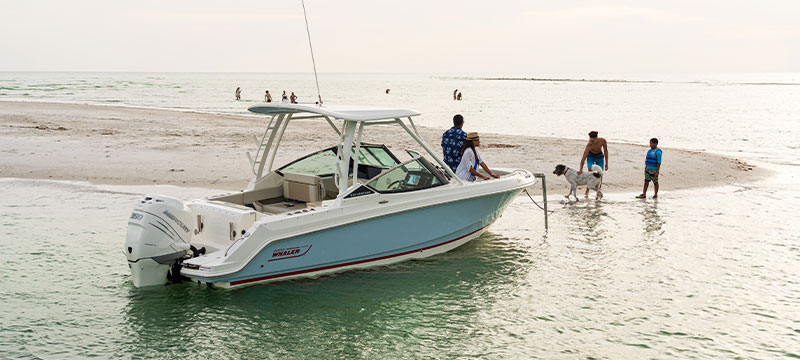 The Best Boat Brands
Our fleet of boat brands represent the highest quality and strongest reputations found anywhere.
View Brands