United by Water
Meet these 4 families who have turned to MarineMax to purchase their boats as their families grow, boating needs shift, and find more things to love about being on the water. With April being Happy Customer Loyalty month, we wanted to take this opportunity to thank these families and many others for making MarineMax and boating a pivotal part of their family memories.
Core Confidence
Few boat brands match the pedigree of Boston Whaler with its rich heritage of quality craftsmanship, safety, and innovation.
Get on the Water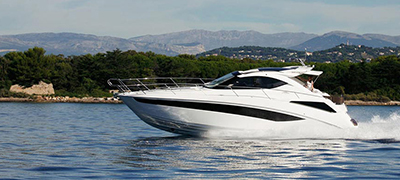 Handcrafted Excellence
Galeon designs assure unparalleled modern styling and convenience. Leading technology and design, makes each yacht exceptional.
Get on the Water
Launch Into Living
A Sea Ray is more than a boat—it's a craft of unparalleled comfort and performance, technology, and technique. It's decades of expertise building the most sophisticated sport boats, cruisers, and yachts on the water. It's an unwavering dedication to customer service and community. And it's the belief that happiness is best enjoyed with the wind in your hair, loved ones at your side and a beautiful boat beneath you.
Get on the Water