This superyacht CEO didn't sell Jeff Bezos a $500M boat but confirms demand is 'absolutely incredible'
MarineMax CEO and President Brett McGill is no stranger to selling superyachts that cost anywhere from $200,000 to $100 million to the ultra wealthy. Actually, it's his job to do so.
And based on years of experience, McGill understands why Amazon CEO Jeff Bezos may be building a monster of a floating luxury vessel.
"First thing I thought is why didn't my team get a hold of him and sell him a boat," joked McGill on Yahoo Finance Live when asked about his thoughts on the boat-buying Bezos. "Beyond that, I think it's relative for everybody. For some a 20-foot boat with three family members out anchored up on an island creating a memory that lasts forever to a yacht like that [Bezos'] where you can have several families and fishing gear, diving and snorkeling and tour the world — to each his own."
Read more and watch the full interview on Yahoo Finance Live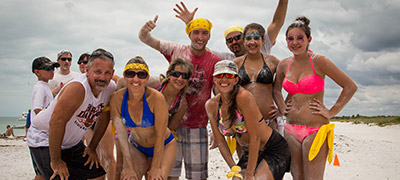 Find an Event
All this fun is exhausting – NOT! We love creating entertaining and exciting customer events. Each is designed to make boating the most remarkable leisure activity in your life.
Find an Event
Find Your Perfect Boat Today
Start your search for the boat that has it all for your lifestyle! Explore premium new, used, and brokerage boats.
Search Boats
The Boating Lifestyles Blog
Browse hundreds of articles on customer stories, tips, trends, gear, amazing boating locations and more found in our MarineMax Lifestyles Blog.
Explore Boating Articles