Are You Ready for Spring?
The fish will be swimming, birds will be singing, and the bees hopefully won't be stinging. With the rest of nature gearing up for warmer days, it's a perfect time to consider getting your boat ready to hit the water when the time is right. Have you thought about what is needed to get prepared? Read the checklist below and take this fun quiz to help see if you and your boat are set to go.
Are you and your boat ready for boating season? Click the link below to see how prepared you are for spring boating.
✔

Safety Gear

Take time to review all the safety equipment on your boat. Do you have the appropriate amount of life jackets and are they all in good condition? Check the expiration date of flares and make sure your fire extinguisher is ready for another boating season. Don't forget to also check your lines, fenders, and anchors.

Your state may also have specific requirements in terms of safety equipment; therefore, it's recommended to double-check and see if the proper equipment is on your boat and if it is in good condition."

For more tips on ensuring you're prepared before heading out on the water, see our Tips and Tricks Every Boater Should Know.

✔ Boat Registration

Pull out your boat registration to confirm it has not expired, and make sure your registration decals are still in good shape. This is also a good time to review your insurance details and review the accuracy of a towing service's contact information. (Don't have a towing service already in mind for emergencies? Check out our friends at Sea Tow.

✔ Fuel, Fluids and Water Tanks

A powerboat isn't much fun without fuel! Before going out on the water, inspect your fuel system for leaks or damage. Pay close attention to fuel hoses, connections, and tank surfaces; signs of a damaged fuel hose include softness, brittleness, or cracking. When it's time to fuel up, look before you pump and stay away from fuel containing over 10% ethanol (E10) as it can do damage to your engine. Ethanol-free fuel is also commonly available.

Remember to check all fluid levels, including engine oil, power steering, power trim reservoirs, and coolant. In addition, make sure to change the engine oil, oil filters, and drive lubricants if not already done completed before or during winter. If you have a water tank on your boat, now's a good time to check it as well. If water has been sitting in it over the winter, flush it out and refill it for your first outing. The MarineMax Service Team is here to help ensure your boat's fluid levels are in tip-top shape. Make your service appointment through the MarineMax App.

✔ Battery, Lights, and More

Check your batteries to make sure they are fully charged and have them tested to make sure they are holding a charge. It's a good time to ensure your navigation lights all work too, and if you're a fan of great tunes, turn your stereo on and try it out. It's also important to check your belts, cables, and hoses since they can become brittle and may crack during the winter—a way to identify a worn belt is if it leaves a black residue near the pulley or fits loosely. Additionally, electrical systems should be inspected regularly by a qualified technician.

✔ Boat Trailer

If you trailer your boat, take a moment to check your tires. Look for signs of wear, check the pressure, and inflate as needed. Make sure your spare is ready to go and inspect the lights on your trailer as well. And overall, check your trailer for signs of wearing, age, and rust.

✔ Hull and Propellers

Inspect, inspect, inspect! Check your propellers for dings, pitting, cracks, and distortion. Unwanted vibration and damage to your drive train can occur as a result of damaged propellers. Your propeller should be secured properly and have safe, well-maintained bearings. Look for any blisters, distortions, and cracks on your hull. This is also a good time to give your boat a bath and shine her up with a wax job. And don't forget to make sure the drain plug is securely in place before every launch.

✔ Accessories

Have you been considering an upgrade or two on your boat? The start of the season is a great time to enhance your boat by adding or updating accessories so you can enjoy them all season long. Visit your local MarineMax parts and service department to find out what is available for installation.

One of the best parts about accessorizing your vessel is the fun and functional gadgets and products that you never knew you needed but are grateful to have on board. Check out our Top 15 Cool Boat Gadgets and Products for your boat.
Let out team take care of you and your boat. Schedule an appointment today.
Pet Safety
Keep your furry friend safe when you're boating.
Learn More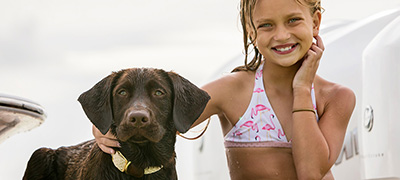 The Boating Lifestyles Blog
Browse hundreds of articles on customer stories, tips, trends, gear, amazing boating locations and more found in our Blog.
Explore Boating Articles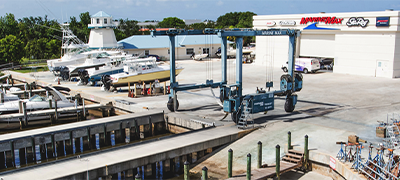 First-Rate Boat Repair
From providing world-class service with factory-certified technicians to finding marina slips and dry storage locations, your MarineMax team will always be there.
Learn More