Sold on Whalers
By Steve Bornhoft, Executive Editor of Rowland Publishing
Emily and Bernhard Schmid have a Boston Whaler habit.
It began when the St. Petersburg couple bought a 10-year-old, 16-foot Dauntless, a boat they would enjoy for 10 years. For Emily, the modest vessel was a reminder of the little Whaler her father had as a kid on Cape Cod.

Today, the Schmids own a 24-foot Dauntless Pro and captain a 42-foot Outrage. But it was as owners of the 16-foot Anchor Lady that they became familiar with Whaler culture.

"We were impressed by the support we got from Boston Whaler," said Bernhard, who grew up in Austria where his boating experiences were limited to sailing and paddling on lakes and rivers. "It was very easy to call Whaler and get parts and the assistance we needed to keep things in shape. We started enjoying the brand a lot."

The Anchor Lady became a focal point in their lives. When they moved from renting to home ownership, a chief consideration in a house was a garage large enough to house the boat.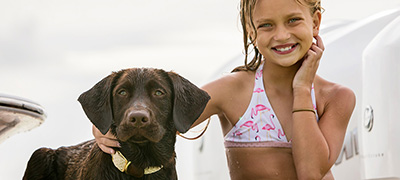 The Boating Lifestyles Blog
Browse hundreds of articles on customer stories, tips, trends, gear, amazing boating locations and more found in our Blog.
Explore Boating Articles
Let's Get Social 👍
We want to hear from you! Share your boating photos and videos. You may even get featured on one of our channels, along with the latest news from across the boating industry, fun stories from fellow boating enthusiasts, and much more!
Follow Us
Core Confidence
Few boat brands match the pedigree of Boston Whaler with its rich heritage of quality craftsmanship, safety, and innovation.
Get on the Water