Sea Ray is inviting boaters to share stories about the moments in their life made perfect by being on the water this summer. The winner, voted on by the Sea Ray community, will have the chance to take home a grand prize package. All summer long, Sea Ray will be sharing these incredible moments on their social media channels, celebrating the cherished moments for our customers. #SeaRaySummerContest. If you're ready for a new boat, explore our models and find your perfect Sea Ray today!
Schedule an appointment with your local MarineMax store!
Sea Ray has a boat for everyone! Get to know each line in the Sea Ray family.
Page Position for sdx
SDX Series

The SDX series adds a whole new thrill to the deck boat experience, enhancing every social connection. The deep and roomy bow creates a relaxing and engaging space for friends and family. Your crew's must-haves can be tucked safely away in the expanded storage of the SDX series. And when the water calls, jump on in, with the huge swim platform welcoming everyone back aboard. This durable runabout isn't just easy to maintain; it's easy to love.
Page Position for slx
SLX Series

Comfort and style are woven into every surface and every line of the SLX series. For a boat to be excellent, it must delight on all levels, through technological advances that instill confidence and pride, as well as design choices that ensure contentment and relaxation. The SLX series calibrates performance, convenience, innovation, and ease for maximum impact, producing a luxury sport boating experience unlike any other.
Page Position for spx
SPX Series

Sea Ray's all-new SPX family of sporty and affordable runabout make it exciting and fun to connect with the outdoors - and to do so with the greatest of ease. Available at 19', 21', or 23' long with either outboard or sterndrive power, these aggressive little sportsters are easy to customize to your preferred uses with options packages. Amazingly affordable, incredibly easy to tow and run, and a real kick, SPX is your family's perfect ticket to long days on the water.
Page Position for sport
Sundancer® Series

Blend the values of a cruiser and a sport boat/bow rider into one. Sundancer's are designed to exemplify ultimate drivability with a distinctive profile that doesn't just enhance looks, it enhances your ride. With the Sea Ray luxury sport cruiser lineup, you will take to the water decked out with every convenience of home to maximize your time underway. Enter the most iconic model of the Sea Ray brands and start an escape that will forever alter your weekend landscape and redefine the way you interact with water.
Launch Into Living
A Sea Ray is more than a boat—it's a craft of unparalleled comfort and performance, technology, and technique. It's decades of expertise building the most sophisticated sport boats, cruisers, and yachts on the water. It's an unwavering dedication to customer service and community. And it's the belief that happiness is best enjoyed with the wind in your hair, loved ones at your side and a beautiful boat beneath you.
Get on the Water
Orchestrated Adventure
The Sea Ray SLX-W 230 provides luxury while adding a serious shot of adrenaline.
Read More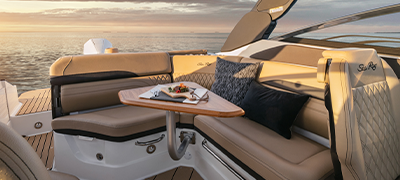 Boating Tips: Sea Ray Ergonomics
Sea Ray Boats have long been known for their innovation and luxury. However, another great feature they boast is their ergonomic design.
Watch Now