Ingredients:

2 tbsp. of olive oil

1 tbsp. of lemon zest

2 tbsp. of lemon juice

1 tbsp. of red wine vinegar

1 tbsp. of finely chopped fresh oregano

1 tbsp. of finely chopped fresh rosemary

2 cloves of garlic, minced

1 tbsp. of salt and pepper

1 lb. of boneless lamb sirloin or shoulder, cut into 1-inch chunks

24 chunks of red bell pepper (about 1 ½-inch chunks)

4 chunks of onion (about 1 ½-inch chunks)

2 8 oz. halloumi cheese, cut lengthwise into ½-inch thick slices

4 Greek pita breads

1 cup tzatziki sauce

1 lemon, cut into wedges

8 skewers
Directions:
In a large bowl, whisk together oil, lemon zest, lemon juice, vinegar, oregano, rosemary, garlic, salt and pepper; toss with lamb until well coated.
Refrigerate for at least 30 minutes or up to 4 hours.
Thread lamb, red pepper, and onion evenly onto skewers.
Add 1 cup water to drip tray of Kenyon G2 Grill. Preheat grill to high heat.
Place lamb kebabs on grill. Cover and cook, turning occasionally, for 12 to 15 minutes or until well marked and instant-read thermometer inserted in center registers 160°F for medium, or cook as desired.
Meanwhile, grill halloumi for 2 to 3 minutes per side or until grill marked. Grill pita breads for 1 to 2 minutes or until warmed through.
Serve grilled kebabs with halloumi, pita breads, tzatziki and lemon wedges.
Getting Started is Easy!
Staying safe on the water starts here. Enjoy the journey as you explore different types of boats, activities, and much more.
Discover the world of boating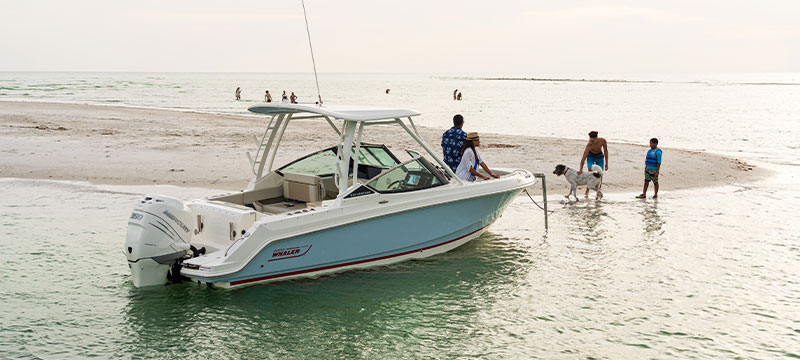 Find Your Perfect Boat Today
Start your search for the boat that has it all for your lifestyle! Explore premium new, used, and brokerage boats.
Search Boats