MarineMax Sponsors a Habitat for Humanity Home for the Fifth Year
MarineMax prides itself on supporting our local communities both on and off the water. For the fifth year in a row, MarineMax participated in another opportunity to sponsor a house with Habitat for Humanity. From landscaping to leveling the flooring, MarineMax and Habitat for Humanity worked together to provide a home for a local mother of two in Pinellas Park, Florida. And on April 19, the completed home will be dedicated to Sophal Lvea and her children, Jasmine (14) and Devin (15) during a special ceremony.

To be eligible for a home through Habitat for Humanity, recipients participate in numerous educational seminars to set them up for success and work alongside sponsors to accrue a number of "sweat equity hours," which means working on the home themselves. Sophal was more than willing to accept the challenge, and was so happy that she cried "tears of joy." "I can't believe it," said Sophal, "First thing that came to mind was that my family and my kids will have a brighter future due to a stable home."

Throughout the program, Sophal, along with various staff members from MarineMax volunteered onsite to help turn the three-bedroom, two-bathroom house into a reality. Abbey Heimensen, Vice President of Marketing, comments, "MarineMax is proud to continue to support this life-changing organization. Not only do we get the chance to change a family's life for the better, but our team comes together and builds our camaraderie while doing something for the greater good of the community."

It takes approximately 13-weeks to complete one Habitat for Humanity house. There's a lot that happens between breaking ground and the final dedication ceremony. From the beginning stages with a safety scaffold installation and continued through with the installation of trusses, framing, insulation, and interior trim, towards the end with sealing the grout, caulking, painting, and landscaping, MarineMax got to be part of all of it- together.

Habitat for Humanity serves low-income families by providing affordable housing solutions. Through donations and volunteer efforts, houses are accessible in all 50 U.S. states and more than 70 other countries. Habitat homeowners pay an affordable mortgage, receive financial education, and are responsible for completing between 18-20 classes covering topics such as cyberbullying and financial documentation. The recipient must accrue 350 sweat equity hours, with the last 50 hours spent working on their own home. Even kids help contribute by keeping above-average grades, which equivalates to sweat equity hours as well.

In the fiscal year 2021, Habitat directly helped more than 4.2 million people secure housing, and an additional 8.5 million people have access to improve their housing conditions through a variety of indirect services. Regardless if one has never picked up a hammer or is a builder by profession, just about anyone can join in to help a family in need.

The family's dedication ceremony will happen on April 19 at 4pm at 6373 67th Way North, Pinellas Park, 33781. All are welcome to come to celebrate the Lvea family when they receive the keys to their new home.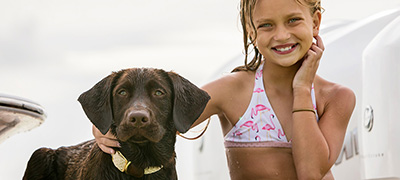 The Boating Lifestyles Blog
Browse hundreds of articles on customer stories, tips, trends, gear, amazing boating locations and more found in our Blog.
Explore Boating Articles
Our Team Is Your Advantage
Supporting owners with a team of experts to ensure you enjoy boating to the fullest.
Meet Our Team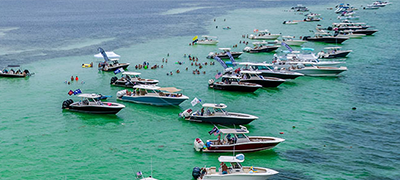 Find an Event
All this fun is exhausting – NOT! We love creating entertaining and exciting customer events. Each is designed to make boating the most remarkable leisure activity in your life.
Find an Event