Boating Tips: Top Fishing Tips
Welcome to
Boating Tips
with MarineMax! Fishing is a fun way to get out on the water. Whether it's high-octane sport fishing or a relaxing day soaking some baits, many people enjoy this centuries-old pastime. Here are some of our top fishing tips. Ask your questions, make comments, and learn a thing or two about your favorite outdoor activity.
Play video for Top Fishing Tips
Boating Tips
Fishing is one of the most popular on-the-water activities in the world. Join us at 3 PM ET for some of our top tips!
Basic Fishing Setup
You can build a fishing setup for a variety of situations and species. Below is a basic guide to building a saltwater fishing setup.
Line
Braided line is an excellent choice to use for fishing line. It is very abrasion resistant, has a small diameter meaning that more line can be packed onto a reel and almost no stretch. Not having stretch in it gives the line great strength, but will necessitate an angler to fight fish more carefully at times.
Leader
From your main line, you tie on your leader, you don't want to tie a hook directly to your line. Leaders are primarily made from fluorocarbon, which is similar to monofilament. Fluro leaders are clear and re designed to disappear in the water so that wary fish are more apt to bite. Additionally, they provide more abrasion resistance.
Hooks
A circle hook doesn't need to be set like a traditional J hook, simply reeling to come tight on a fish when getting a bite will hook the fish. Circle hooks have high hookup ratios and are specifically designed to hook fish in the corner of the mouth and help prevent gut hooking. Some bodies of water require circle hooks to be used, so be sure to research your local fishing areas before heading out.
In Sum
Fishing can be very regionalized and requires different things depending on how you want to fish as well as when and where. What we have described above are three key parts of any fishing setup - the line, leader and hook.
Taking Kids Fishing
Fishing with kids is a great and rewarding way to spend time.
Keep Them Busy
When taking kids fishing, boredom is the enemy. It is critical that you make sure that the kids have something to keep them occupied. This means targeting fish that bite reliably and don't require a great deal of patience to catch.
Other things that you can do to keep your kids entertained include showing them the livewell and letting them play with the bait, giving them a small task or job to do, or giving them something else to keep them focused during downtime.
Manage Expectations
When it comes to kids fishing, you need to be in the right frame of mind as it pertains to what the day will hold. You should be comfortable with the fact that you may spend most of the day tying knots, untangling lines, baiting hooks and pulling the anchor.
There is a distinct possibility that you'll be playing both the captain and mate and may not be able to do a great deal of fishing the way that you are used to.
Make them Comfortable
The last thing that you want is for your kids to have negative memories and emotions associated with fishing; they should be comfortable and happy. Here are some ways to accomplish this:
Watch the weather - Don't get caught out in a storm or on a rough day, you don't want your child to be afraid of going out on a boat
Dress for success - If the day is a bit breezy or cold, make sure that you have plenty of layers. Being cold out on the water is no fun for anyone, let alone a child trying fishing for the first or second time
Target the right species - Pick a good fish for kids, that means something common and not too large for them to handle. A 100-pound tarpon may not be the right fish to go after with a 4-year-old
Keep it Short
Kids tend to have short attention spans, as we mentioned previously, so you'll want to manage expectations and not plan on a long day. As much as you may keep kids engaged, and even if you have the greatest day of fishing ever, sometimes kids just lose interest - that's ok! Don't plan on leaving the house at 4 a.m. to fish for 12 hours and chase a world-record fish. If the kids want to stop and go do something else, do that.
Keeping your kids out for 8 hours when they've had their fill of fishing after 3 is a recipe for disaster. Short and sweet is the way to go. As they get more interested after numerous trips, or as they get a little bit older, then feel free to extend the day.
Fishing Setups Explored
Choosing a spinning setup vs. a conventional setup is an important decision when building your arsenal of fishing gear, be sure you're using the right tools for your fishing goals.
Conventional Gear
Conventional gear is typically used for bottom fishing on reefs, wrecks and other structures. It is usually not used for casting, but rather for dropping baits and lures directly down to fish from above or trolling for big game.
Conventional gear can be identified by its typical short stature, wide reels and small guides. In many cases, conventional setups are spooled with monofilament line rather than braid. It should be noted that when reeling a conventional reel, you will need to use your thumb in order to guide the line back onto the reel in a straight and even manner to avoid a backlash.
Spinning Gear
Spinning gear is different from conventional gear in that it is primarily used for casting rather than dropping baits and lures or trolling. A spinning setup does not require the user to guide the line back onto the reel, has larger guides than a conventional reel and is usually, though not always, spooled with braided line.
Spinning setups have many great applications from panfish to schools of giant tarpon and certainly have a place in any angler's arsenal of fishing gear.
Winter Fishing Tips
Winter fishing can be just as rewarding as summer fishing, check out these tips to ensure that you put a bend in your rod even when the temperature dips.
Slow Down
During cold weather, fish can become lethargic. They are much less likely to chase down a lure or work hard for their next meal. This being the case, slow down your retrieve and focus on methodically working areas. Remember, if you think that you're working your lure slow, work it even slower.
Cut Bait
As we mentioned, fish can become lethargic in the cold and not expend a lot of energy hunting. This is a great opportunity to use a piece of cut, dead bait, rather than a frisky, live bait. Chumming to get the bite started can also be effective. Give your target species an easy meal, let them sniff out your bait sitting on the bottom rather than making them chase it around.
Dress for Success
This tip is more about you than the fish. Make sure that if you're planning on fishing (or boating in general) this winter, you dress appropriately. Be sure to wear layers to keep warm, Remember, you can always take them off, but if you don't have them to begin with, you may spend the day shivering. Another good idea is to bring rain/foul weather gear so that in the event of inclement weather or sea spray, you can stay warm and dry.
In Conclusion
If you're looking to get on the water and catch some fish, stop by your local MarineMax store and we can help you find the boat to fit your fishing lifestyle and answer any questions that you may have. We'll see you out there.
Want to hear more from MarineMax?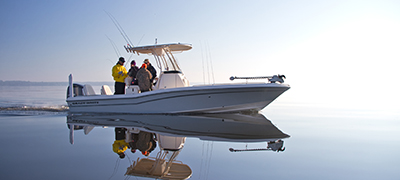 Ready to Get Fishing?
Check out the fishing boats available in our inventory now!
Get Fishing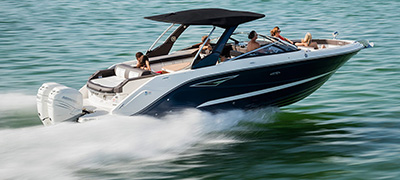 Find Your Perfect Boat Today
Start your search for the boat that has it all for your lifestyle! Explore premium new, used, and brokerage boats.
Search Boats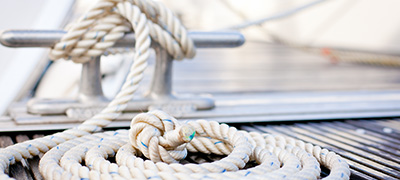 Brush Up Your Boating Skills
Our goal is to make sure you and your family feel confident and comfortable operating your boat. Our videos featuring experts will help.
Get the Tips