Boating Tips: Proper Sun Protection
Welcome to
Boating Tips
with MarineMax! Sun protection is no joke, it is an important part of being on the water. Captains Keith and Nick have the details. Ask your questions, make comments, and learn a thing or two about your favorite outdoor activity.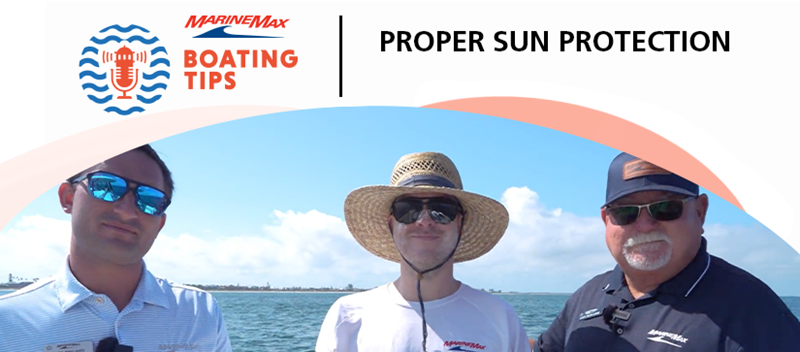 Play video for Proper Sun Protection
Boating Tips
No one wants a sunburn, they're painful, uncomfortable and can even have long lasting impacts. Here's how you can stay safe from the sun while on the water.
Consequences of Prolonged Sun Exposure
Everyone loves getting a good tan and feeling the warm sun on their skin, it's a fun and enjoyable part of the boating experience. However, it is possible to have too much sun. Too much sun can cause painful sunburns, sun poisoning, and over a period of years, even skin cancer.
Prevention
Luckily, there are a few easy ways to protect yourself from the suns's harmful rays.
Hats: A hat will help to keep the sun off your face and neck (size depending)
Sunglasses: Your eyes are just as susceptible to damage as the rest of your body, a good pair of polarized sunglasses will protect your eyes. Most MarineMax locations offer a good selection of sunglasses that will serve you well.
Long Sleeve Shirt: There are tons of companies that make comfortable, light weight shirts that are meant to protect your from the sun while still being breathable and hassle free
Sunscreen: Be sure to use a high SPF sunscreen and re-apply often! This can make a huge difference. Note*: Some sunscreens can stain vinyl seating, be sure to sit on a towel after application
Discretion: Remember, a bit of personal responsibility and attentiveness can go a long way as well. Regular reapplication of sunscreen, be conscious of time spent in the sun and ensuring you're covered will go a long way to helping keep you safe.

In Conclusion
Remember, while Florida may be the "Sunshine State '', this is not Florida specific advice, this applies to a day on the water everywhere from Texas to the Midwest and beyond. If you've had enough sun for the day or simply want a break, seeking shelter below deck in a cabin or under a covered area can be a smart choice. Here at MarineMax we offer
plenty of vessels
that give you that exact option! We'll see you out there.
Want to hear more from MarineMax?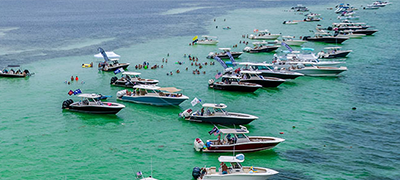 Find an Event
All this fun is exhausting – NOT! We love creating entertaining and exciting customer events. Each is designed to make boating the most remarkable leisure activity in your life.
Find an Event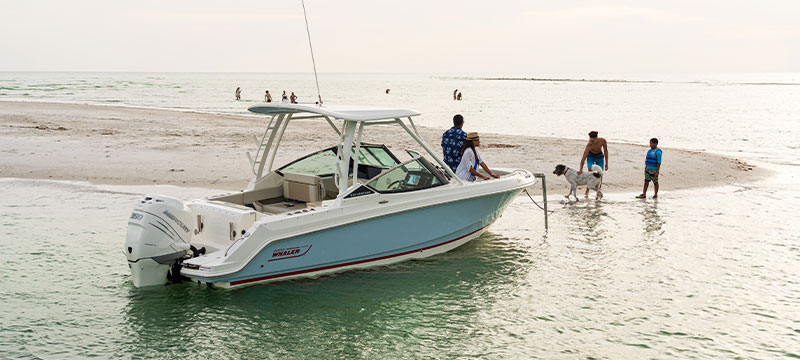 Find Your Perfect Boat Today
Start your search for the boat that has it all for your lifestyle! Explore premium new, used, and brokerage boats.
Search Boats
Let's Get Social 👍
We want to hear from you! Share your boating photos and videos. You may even get featured on one of our channels, along with the latest news from across the boating industry, fun stories from fellow boating enthusiasts, and much more!
Follow Us