From the Helm | Boating Broadcast with Boston Whaler Model Unveil
Welcome to From the Helm with MarineMax, where hosts Lisa and Kelley connect with boating industry leaders for weekly Boating Broadcasts. In this episode, we're joined by the team in charge of the release of the Boston Whaler 240 Vantage, a brand new model to hit the market in model year 2021: Nick Stickler, President of Boston Whaler, John Barbier, Design Manager, Jacob Wilson, Lead Designer, and Mark Robinson, Program Manager.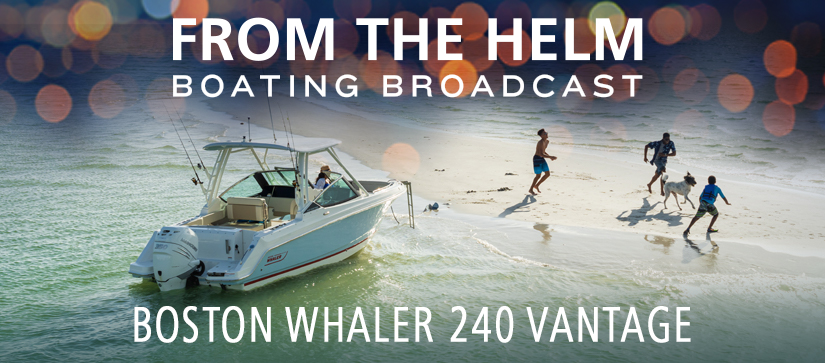 Play video for Boston Whaler Boat Model Unveiling
From the Helm | Boating Broadcast
The new 240 Vantage is a true "do-it-all" boat, delivering remarkable versatility and comfort. With an array of smart features for fishing, cruising, beaching, watersports and entertaining, this spacious dual console model is perfect for active families eager to enjoy everything the water has to offer.
Upcoming Episodes
Check out these upcoming premieres on the MarineMax Facebook page and MarineMax YouTube channel!
Thursday, October 1

Time

Topic

Where to Watch

11:00 AM

Boating Industry News

Thursday, October 8

Time

Topic

Where to Watch

11:00 AM

Hawks Cay Getaway!
NOTES AND TALKING POINTS

From the Helm, Boating Broadcast is brought to you by MarineMax, the nation's largest boat retailer. Explore the boating lifestyle, including new product debuts from Boston Whaler! See more episodes on the MarineMax Lifestyle Blog.


HEADLINES:

Mercury Marine® recently unveiled its Bravo Four S™ forward facing drive with Smart Tow® controls, a new drive system for MerCruiser® engines that elevates the art of crafting perfect wakes for wakesurfing, wakeboarding and other tow sports. Digital controls that coordinate ballast, surf tabs and propulsion settings under a single and intuitive user interface make it easier than ever before. Mercury built its first forward‑facing drive in 1949 when it invented the reversible gear case. The Bravo Four S drive builds on that foundation with a new forward‑facing addition to the venerable MerCruiser Bravo drive lineup.


GUEST:

Welcome to the program, the team in charge of the release of the Boston Whaler 240 Vantage, a brand new model to hit the market in model year 2021; Nick Stickler, President of Boston Whaler, John Barbier, Design Manager, Jacob Wilson, Lead Designer, and Mark Robinson, Program Manager.


Nick Stickler, President of Boston Whaler, discusses the overall concept of the 240 Vantage as a follow up to the release of the 280 Vantage last year, an award-winning dual console with an emphasis on versatility. Affectionately named the "swiss army knife of boats," the 240 Vantage complements the already stunning Boston Whaler lineup because it appeals to a wide array of customers. It's an excellent dayboat to take to the beach, offshore fishing, or wakeboarding with the whole family. The design process starts with consumer research. The team talks more about this later. Nick advises boaters that they can expect to see the 240 in-person later this fall.


John Barbier, Boston Whaler Design Manager, says it's all about customer research; "What does the user want and need?" The Whaler team performed customer surveys and even went out on boats with customers to experience life with boaters firsthand. Whaler owners are the consummate hosts. They want to provide a great experience to everyone on board, so the boat must perform precisely the way they want it to perform. Versatility was key. The traditional Vantage owner does a little bit of everything. From fishing in the morning to sunset cruises with the family in the afternoon, the new 240 had to satisfy multiple personalities.


Jacob Wilson, Boston Whaler Lead Designer, goes into more depth as he helped develop the original Vantage as an Intern seven years ago. The keel up redesign takes inspiration from the Outrage DNA on hull design: taller sidewalls with more flair and a deeper bow increase capability to go further offshore. Versatility in options includes a prep center, flexible port lounge, comfortability of the bow, more room in the cockpit, and a corner livewell addition. Jacob's favorite design feature are the hull side styling lines and windshield that kicks up in the back as an ode to older models.


Mark Robinson, Boston Whaler Program Manager, discusses the timeline from start to finish. It takes about a year to go from design sketches to the floor model. The design team sticks with the project throughout the whole process. Dozens of team members are involved in ensuring the customer's voice is heard throughout the engineering and production process. With so many new key features, this is the perfect time to order a customized boat. The options for the new 240 Vantage are endless. Visit the Boston Whaler Website to create your version of the 240 and be sure to follow them on social media to keep up to date on Whaler news.


SOCIAL UPDATE:

Landen's look into the social media world includes a shout out to Boating Tips LIVE, a second podcast produced by MarineMax. The show airs every Monday at 3pm ET and features two Boat Captains fielding viewer questions LIVE during the broadcast. Stay tuned to see a video from live storm chasers of waterspouts 80 miles off the coast of Louisiana. And an unusual sunbather joined a group out on the boat…is it normal to have Lizards aboard? Subscribe, follow and tag us to keep up to date on Boating News and share your boating stories by tagging us on Facebook, Instagram, YouTube, and Twitter

REMINDER:

You can see or hear MORE episodes of Boating Broadcast [LINK: ] and our sister podcast, Boating Tips LIVE, on the MarineMax blog, accessible on the web or via mobile phone through the MarineMax App. You can also access more episodes on Spotify, Google Podcast, Apple Podcast, or wherever you get your podcast news. We hope you enjoyed today's Boating Broadcast, as always, Stay healthy, boat happy!