Items to Have in Your Emergency Boating Kit
Just what does Captain Keith recommend? Tools, tools, and more tools! There are plenty out there, and many are a plus to keep on your boat. Although they are important for different reasons, such as in case of emergency or for quick repairs, MarineMax has certified technicians to handle all your service needs—and it's easy to schedule online or via the
MarineMax App
.
However, to sum things up in a 'tool takeaway,' it's always good to be prepared, and you can be with the items below!
1. 19" Plastic Toolbox

With storage on top for small items like screws, nuts, washers, etc., you can never go wrong with a sturdy plastic toolbox. The captain recommends a 19" one, so it's just the right size to fit in your boat and store all the extras. This box can be stored in many areas on a

Sea Ray SPX

.

2. Steel Hammer with Claw

Things can get loose on a boat just like they can on dry land, so having a good quality steel hammer with a claw is always a plus. Be sure to have spare nails in your toolbox as well.

3. Snap-Off Knife

If you don't have one on board, that's when you'll need one. These convenient knives have unlimited uses and when the blade dulls, snap it off, and a fresh new one is ready to go!

4. Measuring Tape

Whether it's for checking the length of the freshest catch of the day or measuring the amount of space to install a new LCD monitor on your boat, a measuring tape always comes in handy. Try measuring all 83 feet of this gorgeous

Galeon 800 FLY

.

5. Screwdriver Set

You never know when you might come across a few loose screws that may become an annoyance by catching on clothing or causing things to creak or rattle. Be prepared to tighten any sort of screw with a mixed screwdriver set. Having Allen keys are also recommended. Call them Allen wrenches, L keys, or hex keys, but don't leave home without them!

6. Wrench Set

Always have the ability to turn just about any nut or bolt with a set of wrenches on board. Try to keep both metric and SAE sizes available since parts can be manufactured in different areas of the world. The captain recommends getting a set up to ¾" or 19mm. Crescent wrenches that are 6" and 10" also come in handy. Adjust them to the perfect fit and get the job done fast!

7. LED Flashlights and Batteries

See what you need at sea or just about anywhere else with a couple of handy LED flashlights. Always bring more than one just in case, and don't forget to bring the batteries along! Shine your light on a fun

Aquila Sport

.

8. Plier Set

Get a firm grip on whatever job needs to be taken care of with a quality set of pliers. Be sure to have a variety, including cutters, a longnose version, locking pliers, such as a VISE-GRIP®, and others.

9. Bungee Cord Set

Stretch them to the max and keep everything secure with an assortment of bungee cords. These handy bands are perfect for fastening and bundling plenty of things on any vessel. Fasten your water toys or floating mat with bungees on this

Sea Ray SLX 400 Outboard

.

10. Electrical Tester

Check the current from an electric point of view. If the power is giving you problems, have one of these handy AC and DC testers with a watertight case on board to test things out instead of risking the chances of getting shocked. You'll be glad you did! Amp up your experience on the water by testing out an

Azimut Fly

.

11. Rachet and Socket Set

Crank away and make any project on your boat or yacht a lot more efficient with a rachet and socket set. A 100-piece set is recommended to cover all areas on your boat if the need arises.

12. Small Mirror on a Stick

Sometimes it can be a challenge to see a part, wire, or area in a boat due to the tight spaces and angles. Use a small mirror on a stick, such as a dental tool and find it easier to see the unseen. Use your mirror and reflect on great times on a

Boston Whaler Realm

.

Putting Your Tools to Use

Now that you have a good idea of what tools to have on board, Captain Keith and Captain Nick have some ideal situations where you'll need them. Take a look at From the Helm's "

Boating Tips

," and be prepared to put those tools to work!
Getting Started is Easy!
Staying safe on the water starts here. Enjoy the journey as you explore different types of boats, activities, and much more.
Discover the world of boating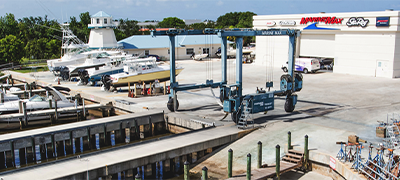 First-Rate Boat Repair
From providing world-class service with factory-certified technicians to finding marina slips and dry storage locations, your MarineMax team will always be there.
Learn More
Let's Get Social 👍
We want to hear from you! Share your boating photos and videos. You may even get featured on one of our channels, along with the latest news from across the boating industry, fun stories from fellow boating enthusiasts, and much more!
Follow Us