How to Choose the Right Fishing Boat
Where do you intend to fish? Whether your goal is to fish in freshwater or prefer fishing in saltwater influences what type and size of boat is most suited for your needs. First, we'll talk about freshwater fishing boats, then we'll learn about saltwater fishing boats and what they encompass.
Choosing You Perfect Freshwater Fishing Boat
In general, freshwater fishing is less demanding on boats and the need for high freeboards (the height of the top edge of the boat above the waterline) is greatly reduced making landing fish somewhat easier. Another key factor when selecting a boat for freshwater fishing is the boats draft, or the height from the bottom of the boat (keel) to the waterline. If you want to fish in shallow waters, you'll want a boat with a short draft so you don't scratch the bottom or damage the boat when in shallow water.
If you need shade on those hot summer days fishing at the lake, you'll want to check out a dual or center console with a Bimini top which can be retracted when not in use and do not hinder casting.
Deciding which fishing features will best suit your freshwater fishing goals can be a tall task, visit your local MarineMax dealership where their experienced boating professionals can help guide on the best boat for your needs.
Choosing your Perfect Saltwater Fishing Boat
Like all fishing boats, the first thing to consider when choosing a saltwater fishing boat is where you intend to fish; inshore, nearshore or offshore and what type of fish you are looking to target.
Choosing an Inshore Fishing Boat

Inshore fishing boats, bay boats, and flats boats are typically designed to fish in shallow, relatively calm conditions. A key factor when selecting a boat for inshore fishing is the boat's draft, or the distance between the bottom of the boat (keel) and the waterline.

Lengths vary but inshore boats are often from 17 to 25 feet and are traditionally outboard powered. Almost all inshore fishing boats feature:

Live Baitwells
Rod Storage
Gear Storage
Special Tackle Centers
Many Come With Fish-Finders And Trolling Motors

Some inshore fishing boats will also offer a hydraulically operated mechanical anchor and are generally either center console or dual console. With a center console the helm is mounted in a console in the center of the boat that may or may not feature a T-top for shade. T-tops tend to infringe on casting especially while fly fishing.

Dual console boats tend to mount the helm in the starboard console. The port console functions as a companion console. Many dual console and center console boats can have Bimini tops that can provide shade when deployed and can be stowed when needed for casting.

Choosing A Nearshore Fishing Boat

Nearshore fishing boats tend to be similar to inshore boats with a difference in that they are designed to handle the rigors of nearshore sea conditions; which includes more aggressive V-bottoms with hard to reverse chines for less roll when at anchor and a smoother, dryer ride when underway.

17-25'
Outboard Powered
Higher Freeboard for Deeper Cockpits

Choosing an Offshore Fishing Boat

If you are looking for a boat to take on the offshore waters you will want to choose a boat that is designed for the rigors and challenges of fishing on the open sea. Offshore fishing boats vary greatly from center consoles, dual consoles, open sport fishing, and convertibles. Recently, several manufacturers have begun to offer crossover boats that have offshore fishing capabilities with cruising capabilities and accommodations. Generally, these models offer a greater range of over 300-miles. Most are powered by outboard(s) many times two to six outboards or more, some are inboard powered with one or more diesel motor(s), while a few styles offer inboard gas powered motors.

25-60'
Raised Helm Deck
Galleys, Berths, Heads, and Salons
Can be Onboard or Outboard Powered Depending on Length
Tower with Upper Helm Station for sight fishing watching for signs of gamefish such as diving birds, bait balls, weed lines and breaching fish.

The most popular offshore fishing boats are center console models that can be fished all around the boat. Convertible models have a flybridge; the flybridge gives the operator a view of the fish-fighting in the aft cockpit below.

Deciding which fishing features will best suit your saltwater fishing goals can be a tall task, visit your local MarineMax dealership where their experienced boating professionals can help guide on the best boat for your needs.
Have you found the boat you're looking for but want to get more information?
Or do you have general questions about a brand or type of boat? We can help.
Finance Your Boat
When it comes to financing the boat you've always wanted, our team has you covered.
Explore Finance Options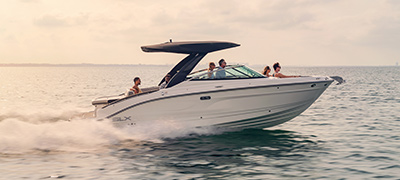 Getting Started is Easy!
Staying safe on the water starts here. Enjoy the journey as you explore different types of boats, activities, and much more.
Discover the world of boating