Boating Tips: Proper Boat Ramp Etiquette
Welcome to Boating Tips with MarineMax! The boat ramp can be an intimidating place for some, but it doesn't have to be! In this week's episode of Boating Tips, Captains Keith and Nick provide some tips on how to follow proper etiquette at the ramp so that things can go as smoothly as possible. Ask your questions, make comments, and learn a thing or two about your favorite outdoor activity.
Play video for Proper Boat Ramp Etiquette
Boating Tips
The boat ramp brings together watercraft of all shapes and sizes. Everyone wants to get out on the water and get the fun started - you included. However, it is important to be polite and practice proper etiquette as explained below.

Be Ready
Time is of the essence at the boat ramp, you don't want to be the slowpoke that is holding everyone up, that's why one of the most important things that you can do regarding boat ramp etiquette is to come prepared.
Before you even leave your house, make sure that all your plugs are in, you have gas, your switches work, you have all your supplies, etc. Check and organize everything at home so that when you get to the boat ramp you're ready to go so all you have to do is launch!
Backup with Confidence
As we have previously said, time is important at the ramp, everyone is itching to get out there! Don't be the one person that is jackknifing their trailer and can't seem to get it into the water. There is an easy way to solve this; practice.
You may never have backed up a trailer before, that's ok! Go to an open field or empty parking lot and practice. Just like when you were learning to drive, get some reps in before you hit the ramp for real and you're boat will be off the trailer and into the water in no time.
No Loitering
Once your boat hits the water, don't tie up on the side of the dock, this will block that part of the ramp from others looking to use it. Have your significant other, friend, passenger etc. park the tow vehicle while you idle out of the ramp. Once the vehicle is parked, they can walk down the dock to the end where you can pick them up.
Launching your vessel this way ensures that others are able to launch and keeps traffic flowing. If you are alone, get your boat off the trailer, idle out of the launch, tie up at the end of the dock thus freeing up the launch, go park your vehicle and then head on your way.
In Conclusion
The boat ramp is a scary place to some, but it doesn't have to be! All it takes for a smooth boat ramp experience is remembering a few simple pieces of etiquette, communication and consideration for your fellow boaters. Looking for a place to get on the water near you? Check out our
Marinas
. We'll see you out on the water.
NEED MORE BOATING NEWS?
You can see or hear more episodes of Boating Tips and our sister podcast, From the Helm Boating Broadcast, on The MarineMax Blog, accessible on the website or via mobile phone through the MarineMax App. You can also access more episodes on Amazon, Spotify, Google Podcast, Apple Podcast, or wherever you get your podcast news. See you out on the water!
Have an Idea for Our Next Episode? Submit It Here!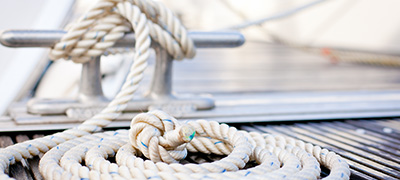 Brush Up Your Boating Skills
Our goal is to make sure you and your family feel confident and comfortable operating your boat. Our videos featuring experts will help.
Get the Tips
Finance Your Boat
When it comes to financing the boat you've always wanted, our team has you covered.
Explore Finance Options
Let's Get Social 👍
We want to hear from you! Share your boating photos and videos. You may even get featured on one of our channels, along with the latest news from across the boating industry, fun stories from fellow boating enthusiasts, and much more!
Follow Us