Boating Tips: How to Set Your Anchor
Welcome to Boating Tips with MarineMax! In this week's Boating Tips, Captains Keith and Nick discuss the how to set your anchor properly and get the best results possible. Ask your questions, make comments, and learn a thing or two about your favorite outdoor activity.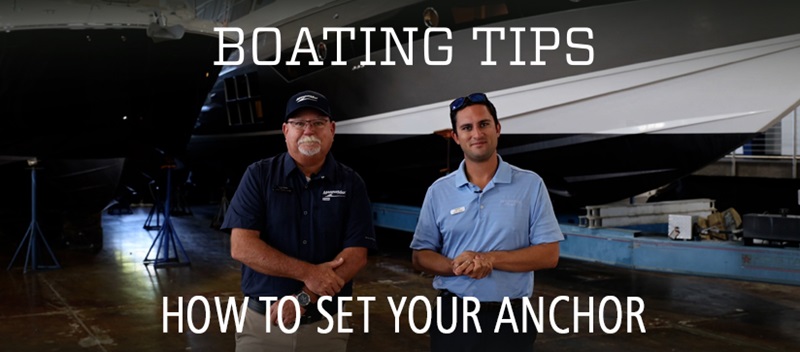 Play video for How to Set your Anchor
Boating Tips
Setting your anchor isn't as easy as just throwing it in the water and forgetting it. There are some important things to keep in mind so that you do it right and get the best result possible.

Scope
How much anchor line you have out as well as how it is behaving in the water is a major indicator of how your anchor will set (or not set).
Too much or too little scope can affect the angle that your anchor is sitting at and therefore impact how well your anchor catches the bottom. It is important to come up with a system to keep track of how much anchor line you have out.
Chain
It isn't just your anchor rope that you must be conscious of, but the amount of chain that you have as well.
Consider what you'll be using your boat anchor for as well as where you'll be anchoring. More chain helps your anchor to sink faster as well as hook into the bottom better. Additional things to consider are the length of your vessel as well as your ability to pick up/pull the anchor and its weight.
Typically, anchors should have anywhere from five to fifteen feet of chain depending on the size of the boat.
More on Anchors
Want to learn more about anchoring? We have resources on
how to retrieve a stuck anchor
,
how to choose the right anchor for your boat
, and more! Come by our shipstore if you want hands-on help, or check out any of our aforementioned resources. We'll see you out on the water.
NEED MORE BOATING NEWS?
You can see or hear more episodes of Boating Tips and our sister podcast, From the Helm Boating Broadcast, on The MarineMax Blog, accessible on the website or via mobile phone through the MarineMax App. You can also access more episodes on Amazon, Spotify, Google Podcast, Apple Podcast, or wherever you get your podcast news. See you out on the water!
Have an Idea for Our Next Episode? Submit It Here!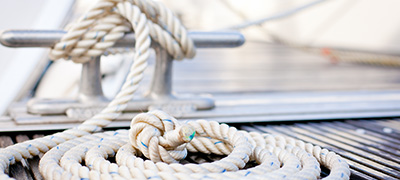 Brush Up Your Boating Skills
Our goal is to make sure you and your family feel confident and comfortable operating your boat. Our videos featuring experts will help.
Get the Tips
Finance Your Boat
When it comes to financing the boat you've always wanted, our team has you covered.
Explore Finance Options
Let's Get Social 👍
We want to hear from you! Share your boating photos and videos. You may even get featured on one of our channels, along with the latest news from across the boating industry, fun stories from fellow boating enthusiasts, and much more!
Follow Us