Boating Tips: Emergency Boating Kit
Welcome to
Boating Tips
with MarineMax! Captains Keith and Nick are bringing you items that you should have in your emergency boating kit so that if things go sideways, you can still have a great day on the water. Ask your questions, make comments, and learn a thing or two about your favorite outdoor activity.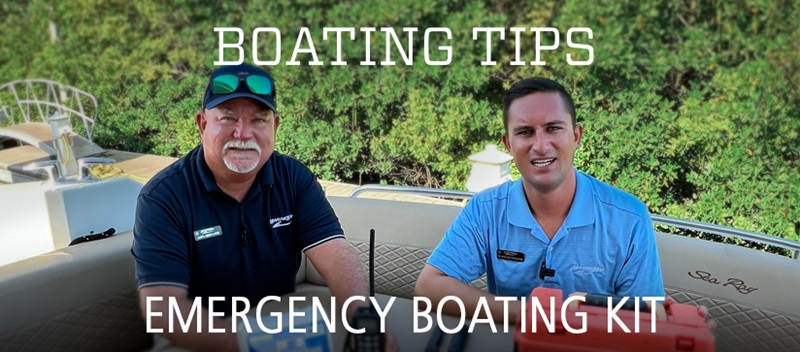 Play video for Emergency Boating Kit
Boating Tips
In this week's episode, the captains are unpacking their emergency boating kits for safety, repairs and emergencies. These items can keep you from having to head back to the dock early.
First Aid Kit
This one is a no-brainer. Accidents happen, you always want to have bandaids, antibiotic ointment and other similar items with you just in case someone, manages to get a small cut or abrasion
VHF Radio
In the event of not having cell service and needing to hail other boats or the Coast Guard, you'll be able to communicate with other vessels - pretty handy!
Zip Ties, Oil and Basic Tools
Basic tools like wire crimpers, flat and phillips head screwdrivers, a few adjustable wrenches and pliers can all be very handy. If there is something that is loose or moving on your boat that shouldn't be - zip ties! If there us something that isn't moving on your boat and it should be - oil! This applies for your tools as well.
This is a bit of an oversimplification of things, but having the ability to deal with small mechanical hiccups that could happen on your unlucky day will behoove you.
Allergy Medications
If you or a guest accidentally consume something that triggers an allergic reaction, being able to provide allergy medication can save the day.
Knives
A serrated and a non-serrated can be great items to keep as well. If you're fishing they can be useful for cutting or chopping up bait, perhaps something gets wrapped around your boat's propeller - anytime you need something cut, whatever it may be.
Flashlight
Sometimes you're having a great day and you just lose track of time, you may find yourself heading home with daylight fading - you'll wish you had a flashlight. Also, if you are looking into your bilge or center console to use one of the aforementioned tools, an extra light source can be very helpful.
Chargers
While many flashlights run on batteries, in the two situations above, having a flashlight that is dead won't help you - get yourself a rechargeable flashlight and keep the charger in your emergency boating kit. Additionally, keep an extra phone charger on the boat as well. While depending on how far from shore you are, you may not have service and may not work, your phone definitely won't work if it's dead.
Other Items
We have one more bonus item that is in the video, so you'll have to watch it to find out what it is. However, if you want an even more in-depth list, we recommend that you check out our
boat emergency kit
post. This isn't the be-all-end-all list, but a good overall selection of things that boaters should always keep on their vessels. Depending on your boat, you may find yourself customizing your kit to fit your needs.
Have fun, be safe and we'll see you out on the water.
You can see or hear more episodes of
Boating Tips
and our sister podcast,
From the Helm
Boating Broadcast, on The MarineMax Blog, accessible on the website or via mobile phone through the
MarineMax App
. You can also access more episodes on Amazon, Spotify, Google Podcast, Apple Podcast, or wherever you get your podcast news. See you out on the water!
Have an Idea for Our Next Episode? Submit It Here!
Finance Your Boat
When it comes to financing the boat you've always wanted, our team has you covered.
Explore Finance Options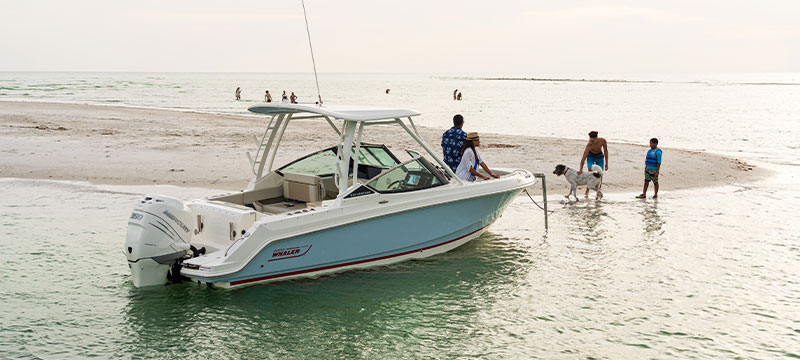 Find Your Perfect Boat Today
Start your search for the boat that has it all for your lifestyle! Explore premium new, used, and brokerage boats.
Search Boats
Let's Get Social 👍
We want to hear from you! Share your boating photos and videos. You may even get featured on one of our channels, along with the latest news from across the boating industry, fun stories from fellow boating enthusiasts, and much more!
Follow Us