Boating Tips: Family Friendly Boats
Welcome to Boating Tips with MarineMax! With so many different types of boats out there, how do you know which is the best to get you and your family out on the water for some fun in the sun? Don't worry, we have you covered with the best boats for families. Ask your questions, make comments, and learn a thing or two about your favorite outdoor activity.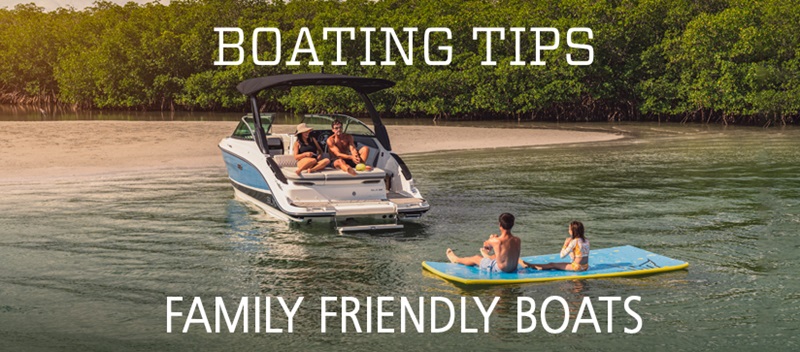 Play video for Family Friendly Boats
Boating Tips
If you're looking for a vessel to get the family out on the water, Captain Nick is here with tips for the best family friendly boats.

Pontoons
Great for family boating,
these vessels
are very stable and maximize room as they are essentially floating party barges. While simplistic in design, these boats can come packed with the latest tech and can be customized to your whim. They are all about being spacious and comfortable.
Runabouts
A
Runabout
is typically 20-35 feet long, and can be composed of center consoles, side consoles, dual consoles, and more! They are a step up from your basic, beginner boats as they are larger and have more of a focus on comfort and features. They are the next step up from the "just get me out on the water" boat in your boating journey.
As far as family boats go, they are a great option.
Deck Boats
Similar to a runabout, these are typically in the 20-35 foot range and feature a wider, flared bow to enable for greater seating capabilities as well as increased storage. Deck Boats typically have outboard power and excel in shallow water.
Cruising Boats
As the name implies, these boats are for cruising! If you're not really in a hurry and just want a relaxing day sightseeing and enjoying the weather out on the water this is the boat for you and your family. Cruisers tend to be a bit larger and a bit slower than some of the other vessels on this list and also usually include some type of cabin or sleeping area.
NEED MORE BOATING NEWS?
You can see or hear more episodes of Boating Tips and our sister podcast, From the Helm Boating Broadcast, on The MarineMax Blog, accessible on the website or via mobile phone through the MarineMax App. You can also access more episodes on Amazon, Spotify, Google Podcast, Apple Podcast, or wherever you get your podcast news. See you out on the water!
Have an Idea for Our Next Episode? Submit It Here!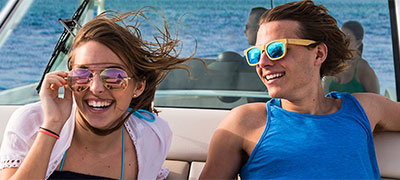 Boating Tips: Tips for First Time Boaters
Learn from long-time boaters' experiences to be the best at the boating lifestyle.
Learn Tips
Finance Your Boat
When it comes to financing the boat you've always wanted, our team has you covered.
Explore Finance Options
Let's Get Social 👍
We want to hear from you! Share your boating photos and videos. You may even get featured on one of our channels, along with the latest news from across the boating industry, fun stories from fellow boating enthusiasts, and much more!
Follow Us