Remy | The Mini Doodle
One of the newest members of our Band of Boaters shows his enthusiasm for boating. Stay tuned to see more of Remy's boating fun soon!
Remy often enjoys his PAWents' 2010 Blackjack 224 and his grand PAWents' center console. His favorite spots to go are either Pamlico Sound in North Carolina, or the Caloosahatchee River and Gulf of Mexico in Florida.

Favorite things to do on the water?

I love going anywhere my humans go! Some of my favorite places to visit are the Bonita Beach Dog Park in Fort Myers, Florida and The Nauti Mermaid in Cape Coral, Florida (they have a dog-friendly patio where I can get a drink of water after getting off the boat). I also enjoy going to Cedar Point in Sandusky, Ohio, where Mom grew up boating from childhood until she moved to the Carolinas, Lastly, I love watching Dad fish in Islamorada in the Florida Keys and going canal cruising with my family on the Caloosahatchee River in southwest Florida.

Advice for new boaters?

My most important piece of advice is to carry lots of treats for boat dogs like me! Also, take a boaters safety course, and spend some time with a knowledgeable guide to learn the way of the local water. My Mom grew up on boats and was required to take one before she was ever allowed to drive her jetski or her parents' SeaRay. I'd also encourage them to remember to have a healthy respect for the water. This tip has kept my family safe for many years on all different bodies of water, from Lake Erie to the Gulf of Mexico.

When was your first time boating?

Mom and Dad took me on a road trip to North Carolina so that Dad could try out his new fishing boat on Lake Gaston. I was only 7 months old, but with my trusty life jacket, I quickly became a huge fan of the wind blowing in my hair, with my ears flapping in the wind!

My entire family has always been into boating, even before I came along a year ago. My family loves inviting friends out for a day on the water, whether it's to hang out on the dock, cruise the canals, take out the jetskis, or raft off in the water. It's been passed down from generation to generation, and Mom says if she has her way, she'll retire early and move us to the beach. Then, she too can invite friends out to experience the love of the water that she has had her entire life.
#BandOfBoaters
Meet the rest of our team and see how they enjoy the boating lifestyle while sharing the fun of being out on the water.
Get Started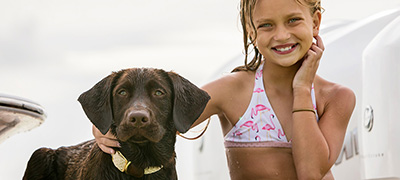 The Boating Lifestyles Blog
Browse hundreds of articles on customer stories, tips, trends, gear, amazing boating locations and more found in our Blog.
Explore Boating Articles