25 EASY Boat Snacks to Try This Summer
Boating fun can work up a serious appetite! Keep everyone happy onboard with these simple, tasty, and picky eater approved boat snacks. The easiest snacks are those you can prepare ahead of time, are portable, and have little to no packaging – we don't want any trash accidentally flying into the water. For more inspiration, check out our Top 13 Boating Recipes.
1. Cold Fruit

On a hot day, nothing is more refreshing than cold fruit. Grab your pre-cut and washed strawberries, watermelon, grapes, oranges, and other favorite fruits and pack it in the cooler. (Just NO bananas! We're only a "little-stitious" – read about this boating wives' tale here.)

2. Hawaiian Roll 'Sammies'

You can't go wrong with pretty much any sandwich fixings between a Hawaiian roll. But our personal favorite is EverRoast chicken and salami, provolone, and a pesto mayo. Prepping these are a sinch in the summer kitchen on the Boston Whaler 420 Outrage.

3. Watermelon Jerky

It's sweet. It's vegan. It's all the rage. It's watermelon jerky. Watermelon jerky may sound like an odd snack, but it's prepared the same way as other dried fruit. The only ingredient is watermelon, too, so there's no need to worry about added sugar or preservatives.

4. Chicken Tenders & Popcorn Chicken

Ok, this one isn't quite as healthy as fresh fruit, but a family-style bucket of fried chicken hits the spot after a long day on the water. Sure, it's cold by dinnertime, but no one minds, and it's easy.

5. Walking Tacos

Walking tacos are great for an on-the-go dinner or boat snack. The ingredients transform a bag of chips into a taco in a bag. Make the meat ahead of time and bring all the fixings on board. Check out the recipe on TasteofHome.com.

6. Lemonade & Fruit Popsicles

Fruity and fun, these refreshing popsicles will keep kids occupied on a long ride out to your destination through no-wake zones. Cut up fruit, pop them into cups filled with lemonade, add a popsicle stick, and freeze. If the popsicles start to melt while being enjoyed, you've got a cup ready to drink the lemonade.

7. Fruit Snacks

Fruit snacks are a great alternative to fresh fruit for your picky eaters. Plus, it's hard to make a mess with a small bag of fruit snacks. Keep them in the cooler to avoid them clumping.

8. Trail Mix

Trail mix is delicious, filling, and if you do it right, packed with protein. Get the perfect mix by making it yourself.

9. Pinwheel Sandwiches

These bite size, easy sandwiches are perfect on the go. Make them yourself or pick up a pre-made platter from the grocery store. Enjoy these in the deep and roomy bow of a Sea Ray bow rider.

10. Popcorn

Light and fluffy, popcorn is a tasty, simple boat snack. We also love this popcorn spinoff, Pirate's Booty - delicious & appropriately themed for boating. Plus, if also makes for an excellent treat for the fish swimming under your boat.

11. Homemade Baked Banana Chips

Deliciously sweet and guilt-free baked banana chips are so easy to make and are the perfect portable, healthy snack to have on hand. Find out how to make these tasty treats at Diethood.com.

12. Tuna Salad and Crackers

Whip up some tuna salad on crackers for a high protein, refreshing, and easy snack.

13. Chips and Salsa

Bright and fresh, chips and salsa is a classic – and boat friendly. Bring it to the next level and serve with homemade ceviche.

14. Bruschetta Kabobs

You don't have to be a professional chef to impress your guests onboard with a delicious snack. Skew cheese, a grape tomato, basil, and cheese tortellini for a beautiful and easy kabob.

15. Homestyle Potato Salad

This is another snack that you could easily purchase from the store or make ahead of time.

17. Spicy Garlic Green Beans

Try this healthy green bean recipe: green beans tossed with olive oil, red pepper flake, a little garlic and salt and pepper. Reheat the green beans on you onboard grill. Kenyon Grills is one of our favorites – see it in action here.

18. Chickpea Salad With Garlic Vinaigrette

This easy vegan chickpea salad with garlic vinaigrette dressing is gluten-free, dairy-free, and soy-free - yet bursting with flavor. It is a fresh, crisp, and satisfying protein-packed meal perfect for your boat picnic. Check out the ingredients over at TheHiddenVeggie.com.

19. Watermelon, Feta, and Mint Salad

Another reason we love summer: watermelon season! Try this light and fresh watermelon salad – just cube watermelon, sprinkle with feta cheese and mint leaves.

20. Turkey and Cheese Kabobs

Bored with traditional sandwiches? Try these turkey (or any deli meat) and cheese kabobs. Add a cherry tomato for added color and nutritional benefit.

21. No Bake Energy Bites

No bake energy bites have all the flavors of granola bars compacted into little bite-sized portions. Customize with dried fruit or chocolate chips. This recipe has seven different flavor combinations that you must try.

22. Pigs in a Blanket

These crowd-pleasing mini crescent dogs are ideal for any occasion on the boat and come together with just two ingredients. We love this recipe from the Pillsbury.

23. Corn on the Cob

Another summertime favorite – corn on the cob. Cook the corn before setting out on your adventure and either warm up on your onboard grill or enjoy cold, either way, your crew will be pleased. A tasty trick is to bring spray butter; it's certainly easier then trying to bring butter sticks. Check out this article all about grilling onboard.

24. Candied Ginger

A little candied ginger can go a long way when you have a passenger who isn't feeling the waves. Always a good idea to bring a little candied ginger to help settle one's stomach.

25. Packaged Cookies

While not the healthiest boating snack, Oreos and Chips Ahoy are sealed, which makes them travel-friendly. After eating your lunch, open a package of cookies to satisfy your sweet tooth while sitting in the sun. Spacious layouts of boats like the Harris Pontoon Solstice Series, provide much desired dry space for all your snacks.
Women on Water
Exclusive classes especially for women ready to take the helm while gaining more confidence in the operation and care of their boats.
Search Women on Water Classes
View Our Marinas
With vast storage, convenient locations, and incredible benefits, our marinas are the perfect place for your boat to call home.
Where's My Marina?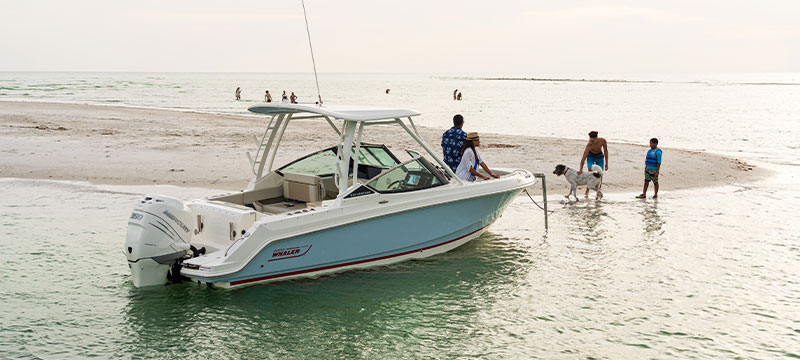 Find Your Perfect Boat Today
Start your search for the boat that has it all for your lifestyle! Explore premium new, used, and brokerage boats.
Search Boats