20 Years of Boating
As we celebrate our 20th anniversary, we take this time to reflect on all that has happened, both with MarineMax and in the world of boating. Over the last 20 years, boating has changed tremendously. Join us as we explore the evolution of boating.
Page Position for 1
Putting the "Pleasure" in Pleasure Boating
The history of boating is the history of man. Boats in one form or another have been used for traversing bodies of water, transporting goods, conducting war, exploration, fishing and the whim of the wealthy. It has only been in the last century that pleasure boating has been popularized.
In 1909, Norwegian-American inventor Ole Evinrude created what was to become the first successfully commercialized outboard. However it was fiberglass, discovered in the 1930s and first extensively used in manufacturing during World War II, that revolutionized modern boat building. Today's boats have seen tremendous development, in propulsions systems, electronics, controls, and manufacturing techniques that make them even more attainable, easier to operate and more enjoyable all while bringing family and friends together, creating lifelong memories.
This series of short articles will chronicle the last two decades of innovations that have made pleasure-boating … well, more pleasurable.
Page Position for 2
Navigating Innovation
The first known seafarers were Austronesian in the Southeast Pacific around 3,000 BC. They passed down their navigation culture for generations that continues today with a new generation of indigenous sailors through The Polynesian Voyaging Society initiated in 1973.

The western culture of navigating by using the stars (celestial navigation) was first seen in the writing of Homer's Odyssey. In the story, Calypso tells Odysseus to keep the Bear (Ursa Major) on his left-hand side while discerning the position of the Pleiades, the late-setting Bootes and the Orion while sailing eastward from her island of Ogygia.

Later navigation aids such as cross-staffs and octants were the earliest instruments for sighting stars. It wasn't until 1757 that John Bird invented the first sextant. In the late 18th Century chronometers became widely available and were able to keep accurate time. Around this time ships logs also were invented making accurate methods for measuring ships speed. It was then that navigation became an exacting science.

In the 1940's, with the use of hyperbolic radio navigation, the Long-Range Navigation System, known as LORAN, was created. This original system was accurate within tens-of-miles. With the advent of microelectronics in the 1960s and improvements to the LORAN system itself, it became fairly common on recreational vessels and became accurate to within tens-of-feet. With the launch of the first artificial satellite and an increase in scientific knowledge, the first satellite navigation system, TRANSIT, was made operational in 1962 and had an accuracy of about 80-feet.

Today's Global Satellite System (GPS) had its inception with the prototype NAVSTAR satellite navigation system on July 14, 1974. However, its clocks failed shortly after launch. A redesigned satellite went into orbit shortly after with caesium clocks, also known as "atomic clocks," on June 23, 1977. By 1985 the GPS using 11 satellites was completed. The 24-satellite system became fully operational in 1993.

Owned by the U.S. Government and operated by the U.S. Air Force, GPS is a multi-use space-based radio-navigation system. There are two signals available: Standard Positioning Service (SPS) and the Precise Positioning Service (PPS). The PPS signal is restricted to governmental use. The SPS is available to any users on a continuous, worldwide basis.

Marine electronic manufacturers have incorporated the GPS signal with digital mapping and chart plotting software to create electronic navigation with pinpoint accuracy. These devices range from small,hand-held units with black and white displays to multifunction displays, integrating GPS chart-plotting with the functions of the other electronics onboard through NMEA standardized signals. Other navigation aids can include a depth-sounder or speed over ground (SOG).

All these chart-plotting devices allow users to set waypoints and chart a course to a destination many of which include calculations for how long a journey will take and how much fuel will be needed. Most also show the location of marinas, restaurants, fuel pumps, points of interest, channels, channel markers, bridges, wrecks, VHF channel indicators, along with local, state, and federal restrictions.

Although electronics have become more sophisticated as well as more reliable, a prudent captain or operator would not leave the dock without up-to-date paper charts, a compass, and a working knowledge of how to use them. Many marine stores carry paper charts or you can download them from NOAA and print them out.

GPS navigation is just one of the many recent improvements in boating that make it easier and more enjoyable for the whole family.
Page Position for 3
The Reason Why They're Called Joysticks
Docking can be the most stressful and often the most dangerous element of operating a boat. The skills for entering a slip vary by the means of propulsion, the number of engines, inboard, outboard, stern drive or water jet. They invention of joystick controls has made boating easier and safer, especially when close in maneuvering in tight marinas and when docking.

The first joystick control for a recreational boat goes back to 1982 when Hinckley Boats developed a waterjet driven Picnic Boat. They discovered that at low speeds it was very difficult to control with a steering wheel. Shepard McKenney, the owner of Hinckley thought that if you could control the power and direction of the waterjets that it would make the power of the waterjets useful. Hinckley developed the first joystick control and branded it the JetStick.

It wasn't until Volvo Penta came up with their Electronic Vessel Control in 2003 and later unveiled their IPS system in 2005 that the present revolution of joystick control changed the world of boating and how we operate boats and yachts.

The Volvo Penta IPS utilizes a pod system to steer and vector each pod independently, allowing the the ability to move in essentially any direction and any attitude. Push the joystick in the direction you wish to go, twist the joystick to rotate, and the amount of throw when the joystick is pushed and twisted determines the amount of thrust.

Joystick control has many benefits including making it easier to learn how to handle a boat, its easier to get into larger boats, and boating with a joystick is safer. The introduction of joystick control has even affected how boats are built. With the ability to control multiple outboard engines more boat manufacturers are switching from inboard and sterndrive boats to outboards. even over 50 feet, making more room for living space and storage.
Page Position for 4
Power Shift
Just about 110-years ago Ole Evinrude developed the first commercially viable portable motor for rowboats. It was one and a half horsepower and bolted on with thumbscrews. From that early "outboard" came a race for ever increasing power. By the 1940's there were more than a dozen companies producing outboard engines. Eventually a company would emerge to compete with Evinrude in the United States, Mercury. These two companies pushed each other into technology advances in what was then the dominant propulsion choice for recreational boating, outboards. Today Mercury builds both two and four-stroke motors ranging from 2.5 horsepower to their 400-horsepower racing outboard with supercharger, the Verado 400R.

Noise and exhaust pollution have been a concern of consumers of outboard boats for decades. All the major manufacturers have addressed these issues with impressive results. Modern outboard engines, whether two-stroke or four-stroke, are exceptionally quiet and produce low exhaust emissions. The quiet operation and increasing efficiencies along with the high horsepower have created a revolution in outboard power on larger and larger boats.

Another reason for the explosion of outboard powered boats is the way boating itself has evolved. More people are wanting day-boats in lieu of spending time overnight onboard. In 2017, 11,911 sterndrive boats were sold, 5.72% of all boats sold. Whereas, the 178,300 outboard boats sold in 2017 represented 85.65% of all boats sold.

The future of boat propulsion is the outboard. At least until something better comes along as manufacturers of outboards continue to increase the horsepower, improve reliability, reduce noise, vibration and weight.
Page Position for 5
From Lame To Fame
Over the decades, pontoons have increased in reserve buoyancy, allowing massive deck plans to support large crowds of passengers. Original pontoon boats depended on two widely spaced pontoons. Improvements to the design and the addition of a third pontoon in the center, creating a "tri-toon," have allowed for increasing amounts of horsepower.
There is no way to know exactly who invented the first pontoon boat, as several independent entrepreneurs began developing what we know today as pontoons in the 1950s.The concept is most widely attributed to Ambrose Weeres, a farmer situated on the Horseshoe Chain of Lakes, close to Richmond, Minnesota. Weeres welded steel barrels together end-to-end and built a sturdy wooden platform which he attached to the welded barrels. He found it much more stable than a conventional boat
At the same time, Pete and Ernie Harris were looking for ways to expand their Harris Manufacturing operation. They had been experimenting with metal tubes in lieu of welding barrels together to fashion pontoons in the Fort Wayne, Indiana area. Pontoon enthusiasts with the welded barrels and those that used airplane drop-tanks as floats kept asking about their new-style pontoons. In 1957 the brothers opened Harris Flotebote Marine. They decided to build a more upscale-looking boat, adding fences built out of welded steel and a motor-mount, so owners could lower and raise their outboards. But the tubes were still flat-nosed. In the late 50s they introduced what they called the "Dolphin Nose" and splash guards. These innovations were adopted by other manufacturers, and the basic concept of the tapered nose cone is still an industry standard. In the 60s, the Harris brothers rocked the industry by introducing upholstered seats and fixed upholstered furniture.
There were many other pontoon pioneers. Waco Manufacturing, beginning operations in 1960, is credited with being the first to introduce the upper sundeck, as well as the upholstered sundeck cushion that encloses the outboard engine and fuel compartments on a pontoon boat. John Cripe, the founder of Sylvan pontoon boats, is widely accepted as one of the pioneering pontoon designers and is credited with introducing colored side panels. John Cripe, founder of JC Pontoons, is regarded as the first to add a center pontoon, coining the phrase "tri-toon."
Today, there are dozens of pontoon boat manufacturers across the United States. Over the last decades, luxury features continue to appear. Everything from enclosed heads to wet bars to waterslides can be seen on pontoons. Construction techniques and advanced materials continue to improve the look and performance. In March 2015, Brad Rowland's 25-foot South Bay boat set a world record for pontoon speed at 114 MPH.
One of the fastest production boats is the Harris Crowne 250. With the Harris Performance Package III, the Crowne 250 is rated for 800-horsepower and can sustain speeds of over 60 miles per hour. The Harris Crowne Line, introduced in 2013, also replaced the conventional gates and fencing with an innovative fiberglass that creates a more sinuous styling. The addition of a tow-sport arch complements the fiberglass design while providing functionality.
The evolution of the simple pontoon from welded barrels with a platform to today's luxury high-performance luxury cruisers explains why pontoon boats represent over 22% of all new boats registered in the United States. If you have not seen a pontoon recently, stop by your local MarineMax. They are sure to have several models ranging from basic luxury to opulently-appointed, feature-filled amazing form and function for your friends and family to enjoy.
Page Position for gallery
The Boating Lifestyles Blog
Browse hundreds of articles on customer stories, tips, trends, gear, amazing boating locations and more found in our MarineMax Lifestyles Blog.
Explore Boating Articles
Find Your Perfect Boat Today
Start your search for the boat that has it all for your lifestyle! Explore premium new, used, and brokerage boats.
Search Boats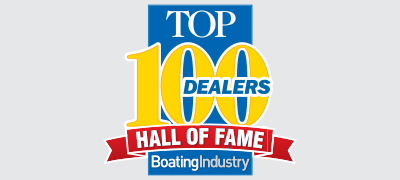 Recognized as a Top Dealer
MarineMax is honored to be the founding member of Boating Industry's Top 100 Dealers Hall of Fame. MarineMax is now one of only five dealers to be part of this elite group.
Discover the Best