The British Virgin Islands are calling!
MarineMax Vacations and your local store are offering a new kind of Getaway!®: Changes in Latitude. Get ready for an incredible adventure where you leave your personal boat behind this time and board a fully equipped Aquila power catamaran to explore the breathtaking waters and phenomenal destinations found in the British Virgin Islands.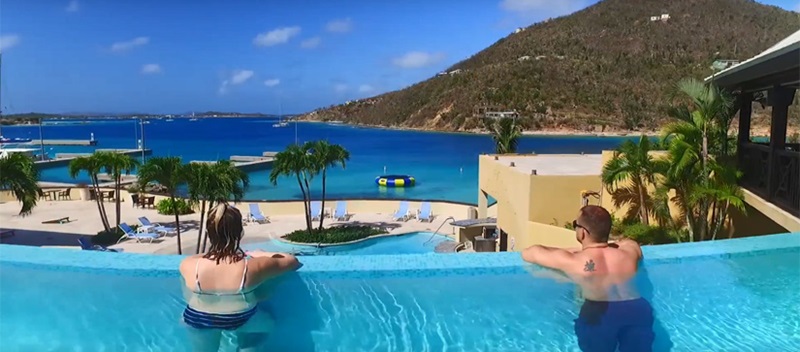 Play video for Your Life Changing Adventure Awaits
Plan an extraordinary vacation this year where you'll enjoy an amazing adventure aboard your own luxury yacht cruising through the British Virgin Islands. You'll enjoy cruising without crowds and planned schedules; it's your time for whatever you chart out for fun and wherever you decide to go.
A Changes in Latitude Getaway! is an awesome way to reconnect with your family and friends in a beautiful change of scenery. The flotilla of boats will visit different island destinations and points of interests as well as take part in excursions that can include kayaking, snorkeling, fishing, shopping, and sightseeing. And, you'll do all this with your local MarineMax store and boating family, providing the same fun activities and support that you enjoy on all MarineMax Getaways! and events.

Aboard the MarineMax Vacations fleet of state-of-the-art Aquila power catamarans, you'll enjoy spacious living and comfort amenities you are accustomed to enjoying, and then some! Ranging in size from 36 ft. to 48 ft. they offer 2, 3 or 4 cabin layouts with all the luxuries you need to enjoy your time in paradise. Indoor and outdoor living spaces have been intentionally designed for charter cruising, excellent efficiency, and exceptional living comforts.

Your local MarineMax team will work with the expert team at MarineMax Vacations. The MarineMax Vacations team will organize everything, including the coordination of all boat charters, provisioning, trip itineraries and taxi/ferry services. Along with your local MarineMax team, MarineMax Vacations will provide the comfort of a lead support boat with a technician and assist you with all of your boating needs. Together they will plan a Changes in Latitude Getaway! that will create a lasting bond of shared memories of time well-spent with family and friends, new and old.
SAMPLE ITINERARY
This is just one of the many possibilities available. Your local MarineMax store will work with you to create a custom itinerary.
Day 1

Arrive in the British Virgin Islands via ferry from St. Thomas or a flight into Beef Island, take a deep breath, and relax. Your pre-arranged transfer will bring you to your hotel where you'll spend the first night soaking in the scenery, exploring the resort, or simply kicking back with a drink. You can also spend your first night as a sleep aboard your power catamaran at our base on

Nanny Cay

.

Day 2

After completing your boat briefings, it's time to head off into the crystal-clear waters of the Caribbean for your first destination -

The Baths on Virgin Gorda

. These enormous boulders are a sight to see. it's a great spot to explore and snorkel. Make your way to the Top of the Baths Restaurant for a stunning view and enjoy lunch. Take a dip in the pool and then head back down and to your boat. From here,

Leverick Bay

makes a great stop for the evening. Mooring balls are available and Leverick Bay offers a restaurant, pool, grocery, entertainment and spa.

Day 3

From Leverick Bay, you can cruise to

Anegada Island

where you can snorkel, visit tiki bars and dine on the famous Anegada lobster after watching them be pulled from the sea. Cars and scooters are available to be rented so you can explore the island and all that it has to offer. It's known for secluded beaches like Loblolly Bay and Cow Wreck Beach as well as waterside restaurants. Enjoy the evening and get ready for the next day!

Day 4

From Anegada, head to

Scrub Island Resort, Spa & Marina

to enjoy lunch and a dip in their two pools. In the afternoon, make your way to

Jost Van Dyke

for an overnight stay in Great Harbour. Along the way you can stop at

Monkey Point

to snorkel. Dinner can be enjoyed at Foxy's in Great Harbour.

Day 5

Another day in paradise, another day with options. While spending the day at Jost Van Dyke you can tender to Foxy's or Soggy Dollar in White Bay for drinks and food. For those interested in booking a dive trip, this is a good day to do so. You can also visit the famous Bubbly Pool on the north side of the island.

Day 6

Time to head to

Norman Island

! Stop at The Indians and The Caves to snorkel. Make sure to keep your eyes open as The Caves at Treasure Point are believed to be the inspiration for Robert Louis Stevenson's Treasure Island. Mooring balls are available at the Bight where you can enjoy stargazing after dinner at Pirates Bight restaurant.

Day 7

Enjoy a leisurely morning at Norman Island, relax on the beach and then it's a short trip to

Cooper Island

with a stop along the way to snorkel. Mooring balls are available and cold drinks and delicious food can be found at the Cooper Island Beach Club. The next morning you'll make your way back to Nanny Cay where you can enjoy lunch at the resort and relax on the beach. Once you complete your boat debrief with the MarineMax Vacations team, you'll head home with a week's worth of memories and, most likely, dreams of returning again soon.

About The British Virgin Islands

With more than 60 beautiful islands to discover, year-round warmth and electrifying crystal clear waters, the British Virgin Islands offer a phenomenal vacation experience every time you visit and your family will love you for the life-long memories. Combining the natural beauty with the seemingly endless amount of activities, from the cultural, to the adventurous, to the indulgent, each vacation is unique in its own way. There's something for everyone in your family to enjoy, from relaxing on secluded beaches to snorkeling through famous reefs and shipwrecks.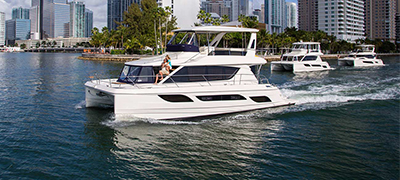 Go Anywhere. Do Anything.
Aquila power catamarans are designed to provide comfort, space, and efficiency. Every detail is handcrafted to perfection.
Get on the Water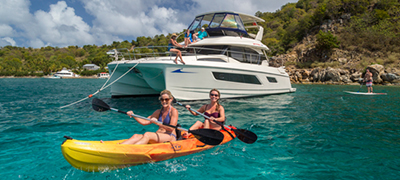 Live Your Caribbean Dreams
Imagine spending a week with family and friends aboard a power catamaran in the British Virgin Islands. MarineMax Vacations can make this dream a reality.
Plan Your Vacation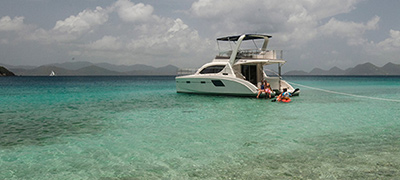 Adventures
Getaways!®, MarineMax Vacations in the British Virgin Islands and Private Yacht Charters are another way we are able to help our customers enjoy the boating lifestyle and enhance their passion for the water.
Take an Adventure