Pre-Owned Yachts For Sale
This is your chance to make your dream of owning a power catamaran a reality, and at a great deal! As our fleet continues to grow, we will occasionally retire these pre-owned models allowing you to get these exceptional boats at an amazing price. Don't miss out! Take a peek at our current inventory of pre-owned yachts below.
Get Paid to Vacation
With our Charter Ownership Program, you can own a boat in the Caribbean without the worry of cost and upkeep.
Find Out More
We Love Questions!
Ready to know more? Some of your questions may be answered here.
Get the Answers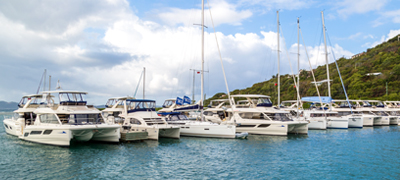 Our Experience and Commitment
Learn how we combine an extraordinary boating experience with customer service that exceeds expectations.
We're Dedicated to Serving You