Experience the World Aboard a Charter Sailboat
Hear the sails rippling in the wind when you charter a luxury sailing yacht from almost anywhere in the world. While top destinations include the BVI, Bahamas, Puerto Rico, St. Martin, Grenada, Croatia and Greece, our charter sail vacation planner can handle everything for you from the identifying the boat that fits your needs and location to providing a professional captain and/or crew, if desired.
Fill out the form below to start planning your adventure or call us at (813) 644-8071 to speak to a vacation planning expert.
Page Position for form
Mallorie Lewis, Sailing Charter Sales Consultant

Mallorie is a Florida native who has enjoyed boating and beaching her entire life. Being of Belgian decent, a first generation American within her family, she enjoys traveling. In addition to living in Belgium for four years, she has visited Portugal, Spain, France, Italy, Holland and vacationed in the Caribbean on several occasions, including bareboat charters in the BVI, Puerto Rico and the Bahamas.

At MarineMax Vacations, Mallorie specializes in finding you the sailing charter vacation of your dreams. Let Mallorie know how many people, sailing cataramaran or monohull, destination(s) and the types of activities you enjoy. She'll find a recommended sailing company that meets your wishes with the right boat and the right price. With a worldwide fleet consisting of sailing boats from Leopard, Lagoon, Bavaria, Dufour, Fountaine Pajot, the options are endless.

Let Us Take Care of It

Don't spend your precious time finding the right boat at the right price. Let our MarineMax Vacations expert planners find the perfect yacht for you in the destination of your choice. We have access to monohulls and catamarans throughout the world and only work with the best partners. We monitor the quality of the charter boats and their service to make sure you have an exceptional experience. We'll get you the best value and handle all the details so you have peace of mind.

Worldwide Destinations

Explore the Mediterranean with a trip along the stunning coastlines of Greece, Turkey and Croatia. Relax on a luxury yacht as you cruise Tahiti in the South Pacific. Experience the rugged country of Canada or enjoy the tropical Whitsunday Islands of Australia. Take in the crystal clear water of the Caribbean in the Bahamas, British Virgin Islands, Grenada or one of the other many islands in paradise.
Page Position for type
Page Position for catamaran
Catamaran Sailboat
A catamaran is a boat two hulls. In catamarans you'll find the staterooms in each of the hulls and generally a large central living space. With their extended beam, catamarans provide spacious exterior living and expansive interior accommodations without sacrificing performance or the sailing experience. Catamarans provide stability and have natural buoyancy for a comfortable cruise.
Page Position for monohull
Monohull Sailboat
A monohull is a type of boat with only one hull. Monohull sail boats are found throughout the world and used commonly in sailing charter adventures. Monohulls are known for their maneuverability and the stability provided by their heeling action. With their traditional designs and classic lines, purist sailing enthusiasts gravitate towards monohull boats.
We Love Questions!
Ready to know more? Some of your questions may be answered here.
Get the Answers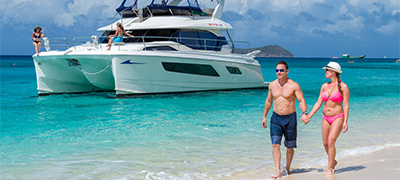 Request a Brochure
Explore the extraordinary charter options you have with MarineMax Vacations for your trip of a lifetime.
Get Your Brochure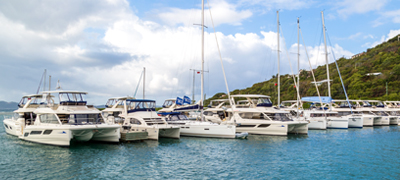 Our Experience and Commitment
Learn how we combine an extraordinary boating experience with customer service that exceeds expectations.
We're Dedicated to Serving You