Plan Your Trip of a Lifetime
Ready to set sail? MarineMax Vacation planning experts will help you plan your entire sailing charter itinerary and your travel arrangements. Our experts will find you the right sail boat at the right price in the destination of your choice. Choose between a bareboat charter (you're the captain) or a crewed trip with captain and/or a crew. We even offer an all-inclusive option so you don't have to worry about a thing!
With over 20 years of experience and access to over 3,000 boats worldwide, you can count on us to help you plan your trip from start to finish. Leverage our expertise with no additional cost to you, so you can enjoy YOUR trip of a lifetime!
Fill out the form below to start planning your adventure or call us at (813) 644-8071 to speak to a vacation planning expert.
Page Position for form
5 Reasons to Choose MarineMax Vacations
Expert planning team to help every step of the way so you can enjoy the trip of a lifetime
Our own custom amenity-packed power catamaran fleet in the British Virgin Islands with 2, 3 and 4 cabin options
Access to power and sail boats of all types and sizes throughout the world in amazing destinations
Explore an extensive resource library of videos and articles to prepare for your trip
Our commitment is to exceed your expectations and provide an extraordinary experience
Page Position for catamaran
Catamaran Sailboat
A catamaran is a boat two hulls. In catamarans you'll find the staterooms in each of the hulls and generally a large central living space. With their extended beam, catamarans provide spacious exterior living and expansive interior accommodations without sacrificing performance or the sailing experience. Catamarans provide stability and have natural buoyancy for a comfortable cruise.
Page Position for monohull
Monohull Sailboat
A monohull is a type of boat with only one hull. Monohull sail boats are found throughout the world and used commonly in sailing charter adventures. Monohulls are known for their maneuverability and the stability provided by their heeling action. With their traditional designs and classic lines, purist sailing enthusiasts gravitate towards monohull boats.
We Love Questions!
Ready to know more? Some of your questions may be answered here.
Get the Answers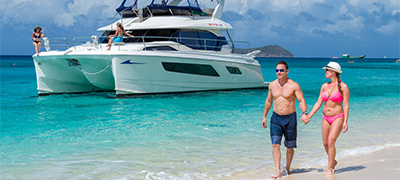 Request a Brochure
Explore the extraordinary charter options you have with MarineMax Vacations for your trip of a lifetime.
Get Your Brochure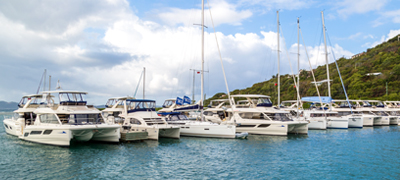 Our Experience and Commitment
Learn how we combine an extraordinary boating experience with customer service that exceeds expectations.
We're Dedicated to Serving You