An Update About Our Miami Beach Store
MarineMax Miami Beach Marina and MarineMax Miami are joining forces to give you the best service possible. Starting September 14, we will be conducting business at MarineMax Miami at 700 NE 79th Street. Here we can provide you with an elevated experience that you deserve and the amenities that you've been asking for. From your MarineMax team, we are happy to welcome you MarineMax Miami and invite you to stop by for a personal tour.
MarineMax Miami Beach Marina
When you purchase a yacht from MarineMax Miami Beach Marina it is the start of our commitment to you, our customer. With our unique location we look forward to being able to provide you with unparalleled personal customer service right on the water.
MarineMax Miami Beach Marina is proud to be one of Miami-Dade County area's authorized Azimut, Galeon, Ocean Alexander, Sea Ray, and Hatteras dealership. MarineMax Miami Beach Marina is a full-service retail sales, marine repair and service facility. It is conveniently located in the heart of South Beach, just minutes away from several hot spots.

From Biscayne Bay to the Everglades and the Florida Keys, Miami has every type of boating lifestyle from cruising the bay on fun loving 19-foot runabouts like the Sea Ray SPX 190 to really specializing in luxury yachting on a new 135-foot Ocean Alexander. Miami Beach is also a great jumping-off spot for exciting destinations in the Caribbean and beyond. The Bimini Big Game Resort and Yacht Club is only 50 miles from Biscayne Bay and the Marina Hemingway in Cuba and the resorts of Varadero are a day away for the typical power boat.

Events & Getaways!

At MarineMax, our dedication to our customers doesn't stop at delivery and boat safety. We want to make sure you have fun, too! MarineMax owners should keep an eye on the MarineMax Miami Beach Marina Calendar of Events. You would not want to miss an exclusive Docktail Party, or one of our Getaways! to the Bahamas or Florida Keys. There is always something to look forward to as a MarineMax owner.

Classes

When you purchase your boat or yacht from MarineMax Miami Beach Marina, it is the start of our commitment to you. At delivery, your new boat is fully fueled, lines are aboard and the U.S.C.G. safety equipment provided. Throughout the boating season, we strive to help you live your boating life by offering a plethora of classes. Those seminars taught by MarineMax Miami Beach Marina's include: seminars of fishing, Kids in Boating, Watersports, the unique to MarineMax, Women on Water classes, and more.

Service

MarineMax Miami Beach Marina is a full-service dealership, providing the areas highest quality marine repair and service. The Marina itself is open every day for our customer from 7am-6pm equipped with a fuel station. Our customers and their boats are never far from MarineMax support. In many cases, MarineMax Miami Beach's service team can provide service at your boat's location using the new MarineMax app.

Lifestyle

Local boating enthusiasts enjoy cruising the water along Miami's busy downtown as well as, cruising on the coast to one of the many landmarks that our store is near. MarineMax Miami Beach Marina, located in the heart of South Beach, is just minutes away from popular places such as Fisher Island, Star Island, Elliot Key, Miami River, and many more. Our Miami Beach Marina, is one of the most prestigious Marinas in the area and it gives boaters access to the excitement of South Beach.

Another MarineMax advantage, owners can join Getaways! on adventures guided by the experienced captains of MarineMax Miami Beach. Some of those Getaways! include going to the Bahamas, Florida Keys, and many fun dayaways in Miami.

There are myriad of fun boating activities to do on the waters around Miami, explore the breathtakingly beautiful flora and fauna on Biscayne Bay's shores. Visit the wide-range of dock and dine restaurants as well as access the shopping around town. A popular destination is Haulover Sandbar where bikinis, pulsating music and mesmerizing crystal blue water combine to create highly entertaining celebrations of the boating lifestyle.

For more ideas of where to boat in the areas waters, stop by MarineMax Miami and talk to one of our experienced sales professionals. They love to share their boating adventures.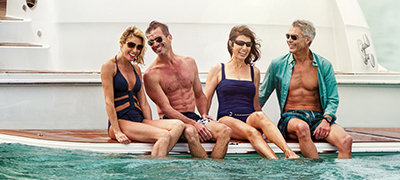 Chart Your Way to Luxury
Imagine your own floating resort at virtually any international port-of-call. A private yacht charter is all about you.
Show Me the World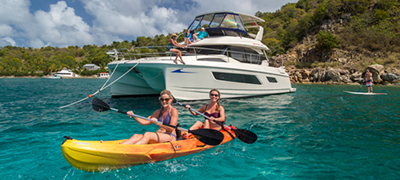 Live Your Caribbean Dreams
Imagine spending a week with family and friends aboard a power catamaran in the British Virgin Islands. MarineMax Vacations can make this dream a reality.
Plan Your Vacation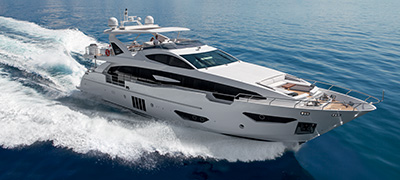 Find Your Yacht
Yacht ownership at MarineMax comes with superb benefits like rendezvous trips and parties, VIP boat show access, and dedicated yacht owner services. Start down the path and explore our stunning yachts.
Search Yachts