Your Local Store
MarineMax Sail & Ski Lakeway
Store Hours
Monday:

Closed

Tuesday:

10:00 AM - 6:00 PM

Wednesday:

10:00 AM - 6:00 PM

Thursday:

10:00 AM - 6:00 PM

Friday:

10:00 AM - 6:00 PM

Saturday:

9:00 AM - 5:00 PM

Sunday:

Closed
Marina
Monday:

9:00 AM - 5:00 PM

Tuesday:

9:00 AM - 5:00 PM

Wednesday:

9:00 AM - 5:00 PM

Thursday:

9:00 AM - 5:00 PM

Friday:

9:00 AM - 5:00 PM

Saturday:

9:00 AM - 5:00 PM

Sunday:

9:00 AM - 5:00 PM
1106 Ranch Road 620 North
Lakeway, Texas 78734
Amenities at Sail & Ski Yacht Club
Sail & Ski Yacht Club
#1 Boat Dealership in North America
Welcome to MarineMax Sail and Ski, your premier boating destination located off FM 620 in Austin, Texas! Our focus is to "make boating easy." Whether it's selecting and purchasing a new or used boat, maintaining the boat you already have, or enjoying
About this Marina
Visit our Lake Travis Marina, conveniently located near Lake Travis, the Colorado River, Lake Austin, Buchanan Lake, Lake Lyndon B Johnson, and Lady Bird Lake. Here you'll find a wide variety of boat slips and storage options to accommodate boats of all sizes. We also offer state-of-the-art facilities, including a fuel dock, pump-out station, and a boat accessories store stocked with all the apparel and supplies you need for a day on the water.

But we're more than just a marina – we're a community of boaters who share a passion for the water. Our yacht club offers a range of social events and activities throughout the year, including boating excursions, fishing tournaments, and holiday celebrations. And our friendly and knowledgeable staff is always on hand to help you plan your next adventure or answer any questions you may have. When not on the water, this marina has a delicious waterfront restaurant called the Sundancer Grill so you can refuel with food and drinks for your entire crew.

MarineMax Sail & Ski is also your local snow sports headquarters! We have everything you need to make a great ski and snowboard vacation in the mountains. With top brands like Burton, Salomon, Obermeyer, The Northface, Volcom, and much more, you are sure to find what you need to look stylish and stay warm, comfortable and dry when you hit the slopes. Our expert staff is passionate about skiing and snowboarding and are dedicated to helping you have as much fun as they do on your next vacation. Don't have your own ski gear or clothes? No worries, we are the only ski shop in Central Texas to rent snow skis, snowboards and ski apparel for men, women, and kids.

Whether you're a seasoned boater or new to the sport, the Sail and Ski Yacht Club is the perfect place to call home. We invite you to come visit us and see why MarineMax Sail & Ski was voted Boating Industry Magazine's #1 Boat Dealership in North America.
Storage Options at Sail & Ski Yacht Club
Store Your Boat on Lake Travis
MarineMax Sail and Ski provides dry boat storage, to help prevent the need for frequent maintenance and prevent wear and tear caused by constant exposure to harsh conditions. Store your boat dry and safely with MarineMax.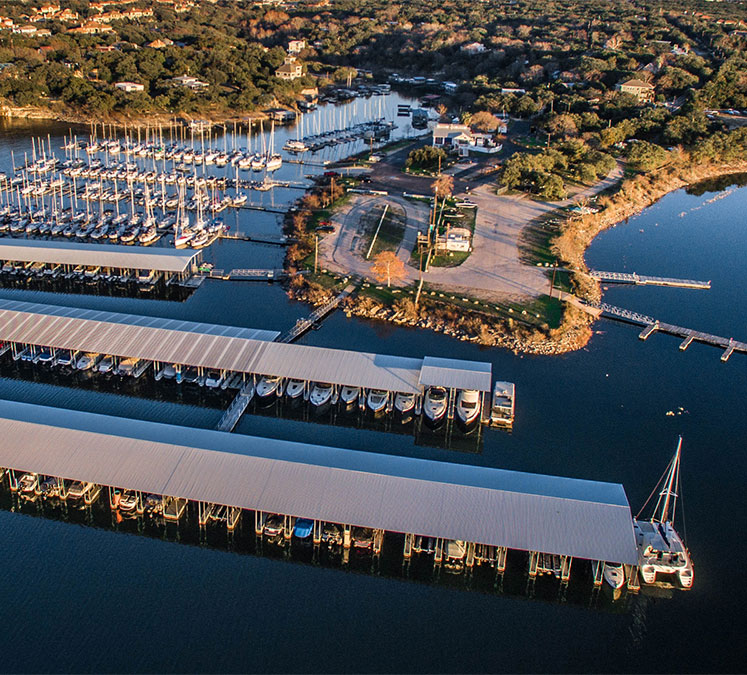 Storage Options at Sail & Ski Yacht Club
High & Dry Outdoor Storage
High & Dry Outdoor Storage will keep your boat safely stored on a rack with other boats.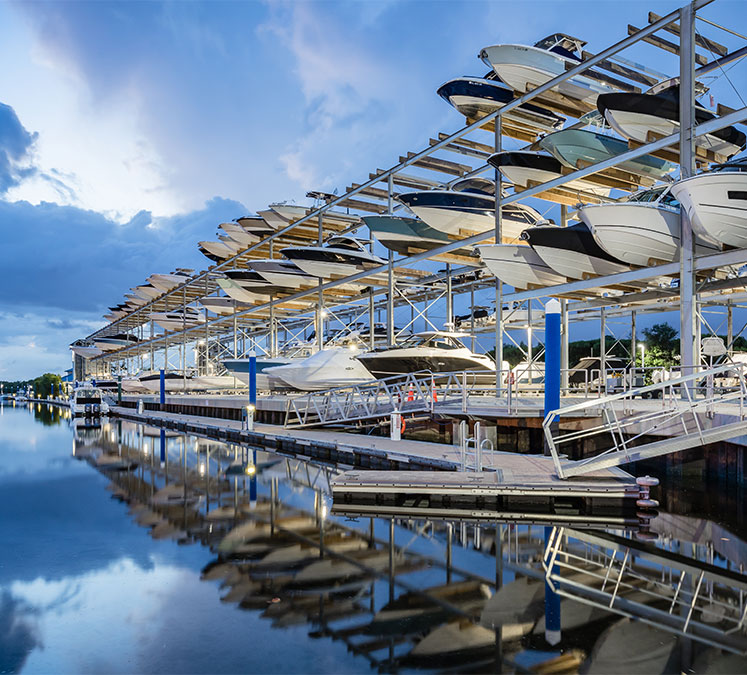 Storage Options at Sail & Ski Yacht Club
In-Water Storage
Keep your boat anchored down and safe in-between travels with our in-water dock storage. Your boat will be safe and secure on our docks with easy access to hit the water in no time!
Shop Boating Accessories:

Find all your boating needs at our one-stop boat accessories store full of the necessary equipment and supplies for your boat. Work with our knowledgeable staff who can assist with our wide range of products. From safety gear to water sports equipment and navigation tools, our store offers a wide range of products to enhance your boating experience. Shop with us today!
Sail and Ski Yacht Club
(512) 266-2507
Monday - Sunday
9am - 5pm
Shop Boats For Sale
Our inventory includes high-end brands such as Aviara, Cruisers Yachts, Sea Ray, Boston Whaler, Harris, Nautique, Bayliner, Premier, Kawasaki, and Dargel, offering a wide range of boats and yachts that cater to diverse boating lifestyles.
Events near Lakeway
Join Us for Events and Classes!
Discover The Austin Boating Lifestyle
Where To Boat In Austin
Nearby Lake Travis is a favorite for local boating enthusiasts. A reservoir stretching 63 miles long, every type and style of boat can be seen on the lake on any given warm summer day. From 19-foot jet boats to luxurious yachts and everything in between. The MarineMax Sail & Ski Lakeway team members are all boating devotees and they spend their free time on the waters of Lake Travis and other central Texas lakes, such as Lake Buchanan and Lake Walter E. Long. You will find them with their customers and friends enjoying the water, fishing for largemouth bass and other species, engaging in water sports, cruising to great dockside restaurants, or just relaxing in the warm Texas sunshine. Other activities enjoyed by area boaters include celebrating the boating lifestyle at Lake Austin, Devil's Cove at Lake Travis, and the many lakeside parks. With more than 170 lakes in Texas to explore, there are essentially endless opportunities to discover all Texas boating has to offer.
Watersports are popular among the Austin area boating enthusiasts. There are many MarineMax team members who enjoy tubing, waterskiing, and wake sports including wakeskating, wakeboarding, and wake surfing. Lake Travis, Pace Bend State Park, and the calm Colorado River provide ideal conditions for all kinds of watersports. Stop by MarineMax Sail & Ski Lakeway for some pointers or just to shoot the breeze about your favorite watersports.
Fishing in Austin Texas
Largemouth bass are the most popular species for Texas anglers and those that fish in the central Lakes are no different. Other species such as bluefish, redbreast sunfish, striped bass, and catfish also abound in area waters. The striped bass was introduced to the area's lakes to add an open water sportfish to the mix. Hiring a local fishing guide is a good way to learn the ins and outs of fishing on the central Texas lakes.
Waterfront Restaurants
After spending time on the water the MarineMax Sail & Ski Lakeway team recommends pulling up to the docks at The Sundancer Grill on Lake Travis, less than a mile from the store. Our very own Sundancer Grill offers a bistro dining experience with a casual lakeside atmosphere. Another favorite dock-and-dine establishment is Ski Shore Café close to Emma Long Park. Featuring a huge playground for kids, a room of arcade games, and a spectacular deck, Ski Shores is a wonderful place for the whole family to enjoy a day on the lake. The Oasis on Lake Travis is another famous Austin eatery, offering expansive terraces overlooking Lake Travis. There are many other dockside restaurants in the region from casual to elegant to discover and enjoy.
Finance Your Boat
When it comes to financing the boat you've always wanted, our team has you covered.
Explore Finance Options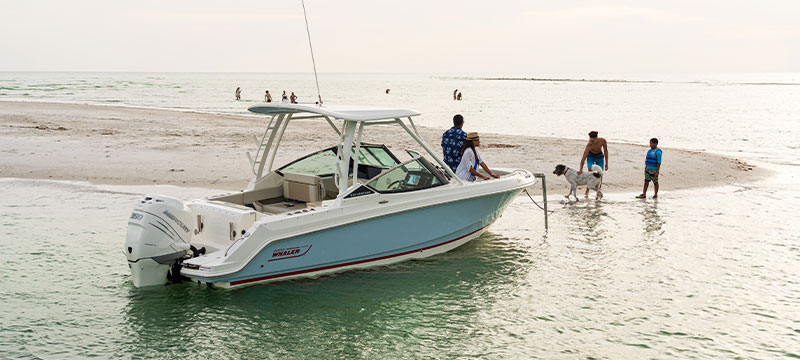 Find Your Perfect Boat Today
Start your search for the boat that has it all for your lifestyle! Explore premium new, used, and brokerage boats.
Search Boats
Boating Made Easy
Sign up for My MarineMax to start maintaining your boating lifestyle with ease.
Sign Up Now