Superyachts and Superb Services
MarineMax's recent big strides into bigger yacht territory pave a smooth way for you to do the same.
Imagine that, due to the strong success you've had in offering your yacht for charter, you now feel more comfortable buying that bigger yacht you've been eyeing. You also feel confident that the revenue stream will continue, perhaps even see a bit of a boost. Or, imagine you've long wanted to commission a custom superyacht, and learned that requesting bids from builders isn't nearly as expensive as you've heard. Now you can assess which shipyards are best suited to fulfilling your desires.
Each of these scenarios occurs across the country, and around the globe, on a regular basis. What's more, they recently occurred with two MarineMax customers, thanks to the professionals behind the new Charter and Superyachts divisions. Both clients gained the comfort they needed to proceed—without having to seek answers outside of the company.
Bob Saxon, vice president of Yacht Management, Crew Placement and Charter, puts it succinctly: "They know they now have a base of information." Saxon has managed about 3,000 yachts in his 35-year-plus career. From his days of operating Bob Saxon Associates to more recently overseeing the brokerage and charter firm IYC, Saxon is abundantly familiar with the top-of-mind questions people have. "The most common questions are protocol questions," he explains, such as handling operating expenses and logistics, hiring a captain and crew, and expecting certain revenue from listing a yacht for charter. "It's fun talking with people who all of a sudden have the light bulb go off," he says.

Interestingly, Saxon adds, that realization strikes MarineMax brokers as much as it does customers directly. In fact, he says, it's happened a few times with charter in particular. In each situation, the brokers have had clients interested in experiencing yachting but not yet ready to buy. As a result, they've suggested the clients try a week's charter, and introduced them to Saxon. Saxon has gone on to book several charters aboard the yachts currently in the MarineMax charter fleet. (That fleet is 12 yachts strong, ranging from a 59-footer to a 120-footer, created from the ground up in just one year's time.)
The try-before-you-buy success doesn't surprise Saxon. "Seventy-eight percent of people who buy or build have chartered at least once," he notes. Furthermore, many of those same people go on to offer the yacht they buy or build for charter. His role, he says, is telling them how charter management works, what they can expect in terms of booking volume and income, and related matters. "Getting them happy this way, gradually they'll want larger and larger yachts," Saxon explains. At least two of his charter owners feel that way: Both are looking at bigger yachts because they can justify the cost.
To help more customers buy those larger yachts, there's Billy Smith, vice president of the Superyachts Division. Smith co-founded Trinity Yachts in 1988, expanding its reach from U.S. shores to the Middle East and seeing about 50 superyachts constructed in the process. Having worked with dozens of new-build clients, he, too, knows the top questions that come to mind. "People ask, 'Who's the best naval architect? Who's the best owner's rep? How much do I pay a captain? How much does insurance cost? How do I choose a flag state?'" Equally important, Smith knows that new-build superyacht buyers often don't know where to start. "It's daunting," he says. "We have to remove the impediments," adding, "we have to try to make it one-stop shopping."
Even though Smith and the Superyachts Division are still new to MarineMax, he sees this one-stop-shopping idea becoming a reality. He notes that MarineMax already offers production-boat owners assistance with things like financing as well as service and maintenance. Plus, MarineMax manages marina offices ranging from Ocean Reef in Key Largo to Chelsea Piers in Manhattan. Smith's relationships with maritime attorneys and other professionals, plus his knowledge of hull materials and the world's leading shipyards complement these. "I'll take you from Louisiana to Lürssen. You pick," he says.
Yacht companies often talk about customers being part of their family. It may sound like marketing-speak, but it rings true due to the close relationship many owners have with their brokers and builders. So, why not take the opportunity to keep you in the family longer? Both Saxon and Smith understand the importance of this—and have already experienced it first-hand within MarineMax. Saxon says five of the 12 owners who listed their yachts with the company's charter fleet are previous customers who had left, for no other reason than the resources not being present, and have now returned to the company. As for Smith, he corrected misinformation one broker and client had heard from other sources about what it would take to put together a bid package. The bottom line in both situations: access and information. "These guys are all smart. You just have to educate them," Smith says.
Whether it's enlisting Saxon's help to create the employment contracts for crew, establishing a solid charter marketing program, or asking Smith the differences among the American and European custom-yacht builders, you can feel confident you're going to get that education. And it's coming from the friendly confines of the family where you already belong.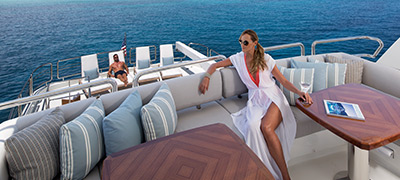 Yacht Charter Management
Are you interested in placing your yacht in a charter fleet during periods you aren't using it? Our experienced professionals at will work with you to develop your personal plan.
Explore Charter Management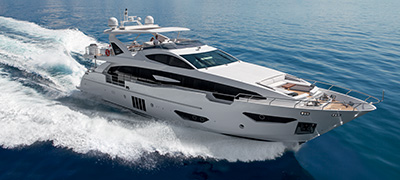 Find Your Yacht
Yacht ownership at MarineMax comes with superb benefits like rendezvous trips and parties, VIP boat show access, and dedicated yacht owner services. Start down the path and explore our stunning yachts.
Search Yachts
MarineMax Yacht Centers
In addition to being the world's largest stocking yacht dealer, MarineMax Yacht Centers offer priority service access to our factory certified technicians, 100-ton travel lifts, and an extensive range of parts.
View Yacht Centers