"In the Drink" - A Family Affair
The entire Petrosino family of Naples, FL gets comfortable with the boating lifestyle.
Sharon and Neil Petrosino weren't originally looking to be boat owners, even though they had both grown up around boats. Then they moved from New Jersey to the west coast of Florida, where their daughter, Annie, and son, Nick, brought up the idea. The couple began to take notice of their local marinas filled with different types of vessels. Eventually, they wandered into their local MarineMax store in
Naples
, just to look, and met Bob McIntosh.
"We talked to Bob over several months and he really helped us decipher the lifestyle we were looking for," said Sharon. "He truly listened to our priorities, and got to know us, including the kids. It wasn't until he understood our family and our goals that he talked about the different types of boats that would fit our situation."
In the end, the Petrosinos chose a

Boston Whaler 230 Vantage

, christened "In the Drink". Since they have two teenagers who would be driving the boat on their own, safety was a key factor in their decision, and the fact that the

Boston Whaler

is the 'Unsinkable Legend' appealed to them. They took full advantage of the unlimited

boat training

available at MarineMax.
"We knew our son Nick would be driving the boat quite a bit, oftentimes without us," Sharon began. "We wanted to make sure he was very comfortable driving in the Naples Bay and surrounding area which can be choppy from a lot of large boat traffic. The MarineMax captain took him out by himself and showed him exactly what to do. It gave us all the confidence we needed."

It wasn't just Nick that benefited from MarineMax training. When the Petrosinos first brought the boat home, they had difficulty getting the boat on and off their lift, calling on Bob for help.

"The family lived on a tight canal that would be difficult for an experienced captain to navigate, so we sent our delivery captain to show them some tips and simply help them through repetition until everyone was comfortable," said McIntosh.

Bob was also the go-to when Hurricane Irma was about to slam the west coast of Florida.

"That was the first hurricane that I experienced and I was nervous that our beautiful, new boat, which was on a lift in our backyard, was going to end up flying in the storm and hitting our house. I called Bob and he reassured me that the canal would protect it. He told me to take the cover off "In the Drink" so it would not be lifted in the air by the strong winds and all should be fine," said Sharon. "From my professional background, I understand the value of good customer service. The relationship we have with Bob and MarineMax goes above and beyond, and takes customer service to a whole new level."
The Petrosinos have now gotten the hang of the boating lifestyle. Sharon and Neil both come from big families, and are often entertaining out-of-town guests, which is when they truly appreciate the Vantage's spacious and flexible seating options including bow seating with lounge backrests on both port and starboard, plus the optional stowable table, perfect for afternoon snacks and cocktails.
Custom helm seating has both a high and low pedestal, and there is a fold-out stern seat with backrest so their moms, sisters, brothers, nieces, nephews, and friends can all be comfortable at the same time.
Aft seating stows seamlessly to expand a large cockpit area for entertaining complete with 35-quart YETI cooler, cutting board, and sink with a drain that Sharon likes to call her cocktail table.
The Vantage's extended integral swim platform with recessed telescoping dive ladder and grab rail make it the ideal boat for playing in the water too. The Petrosinos' favorite place to do that is Keewaydin Island where they can raft up with other boats or run up on the beach. When it's time to get out of the sun, the hard top provides welcome shade.
The family has started to venture a little farther from home too, relying on the Raymarine Axiom electronics and navigation package that includes pre-loaded charts for navigation, and the Petrosinos' favorite feature, breadcrumbs. The breadcrumbs allow them to venture as far as they want, in and out of coves, knowing they'll have a GPS guide to get them back where they started. Recently, Annie asked Sharon and Neil to take her and some friends on a 20-mile trip in the Gulf to explore the Dome Houses, which are peculiar looking stilt structures located in the water off Marco Island that have become a popular destination for local fishermen and tourists. They all had a great time and the navigation system made the Dome Houses easy to locate.
They love the MarineMax
Casino Nights
which are fun parties with great food, entertainment, and open access to tour the beautiful yachts and large boats being sold by MarineMax. Sharon and Neil also participated in a MarineMax
Getaway!
to South Seas Resort on Captiva Island, but not by boat. The weather that weekend was iffy, and they decided not to go via water so they drove by car. Bob McIntosh got them passes to the event and they were able to enjoy the festivities even though they came by land, not sea.
Neil and Sharon Petrosino are entering a new stage in their life as they find themselves empty nesters. Their children are now 21 and 20 years old, have gone off to college, and are working. They aren't worried though. "If you want your kids to come back after they've left the nest," joked Sharon, "get a beach house and get a boat."
Core Confidence
Few boat brands match the pedigree of Boston Whaler with its rich heritage of quality craftsmanship, safety, and innovation.
Get on the Water
Getting Started is Easy!
Staying safe on the water starts here. Enjoy the journey as you explore different types of boats, activities, and much more.
Discover the world of boating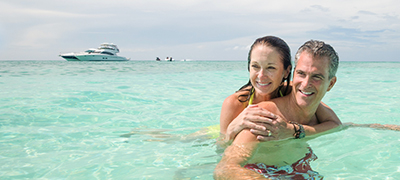 Discover New Places
Some last a day, others a weekend or longer. Either way, our Getaways!® will have you enjoying the boating lifestyle in no time.
It's time for fun