Happy Anniversary, Darling
A Connecticut couple gave each other the perfect 20th-anniversary gift—a new Galeon 325 GTO.
By Louisa Beckett
In August 2002, New England couple Camielle and Robert Griffiths celebrated their wedding on the water on a chartered boat off the historic seaport of Mystic, Connecticut.
"The day was so perfect, and our family and close friends were there to see us be married," Camielle said.
So, nearly two decades later, when the couple decided to purchase their very first boat, they made the new Galeon 325 GTO an anniversary present to themselves, arranging to take delivery in August 2022. "It was our 20th wedding anniversary, and it felt right," Camielle said. "Buying the boat at that time and being able to relive that day again and again with our friends and family—it just felt like full circle."
When the Griffiths ordered the Galeon in 2021 through Sales Consultant Justin McGale at MarineMax Westbrook (Connecticut), they had been members of a local boat club for about a year. The club had provided them with a good, hands-on introduction to power boating.
"It gave us training and also familiarity with the Connecticut shoreline and Long Island Sound," Rob said.
"It helped us to figure out if we liked the boating life," Camielle added. They did. In fact, they liked it so much that it was a big disappointment when a couple of times, their reservation for a club boat was canceled because the vessel was out of commission.
"We decided we wanted the flexibility and the access of owning our own boat," Rob said. "We figured out pretty quickly that boat ownership was a happy place for us," said Camielle agreeing.
With their minds made up to buy a new powerboat, the Griffiths did their due diligence in assessing the size and style of vessel that would be right for them. Rather than purchase a single-engine boat in the 20-foot range like the club boats they had been using, they felt they needed the space and performance a twin-engine boat in the 30-foot range would afford.
"We are very family-oriented, so we wanted enough room to accommodate the people we care about," Camielle said. It also was important to be able to bring their beagle on the boat. "Effie is a family member," she explained.
The Griffiths' experiences with the boat club, which like most clubs, imposed geographical restrictions on its members and did not permit them to take vessels out overnight, made them realize they also wanted a boat with the range and sleeping capacity to go on long-distance cruises.
Rob, who has an engineering background, began searching the internet, focusing on boats in the low 30-foot size range. He came across the premiere walk-through video of the Galeon 325 GTO by Bob Burke, MarineMax Galeon brand manager. "I thought it had an interesting, innovative layout with the drop-down platform on the port side," Rob said. "Most significantly, when I mentioned to a few friends we know who are lifelong boaters…the brand we were looking at, Galeon, had a reputation for quality. That was a tipping point for us."
Their interest in the 325 GTO led the couple to MarineMax Westbrook, where McGale helped them order the boat from the Galeon factory. Rob describes Justin as being more like an advocate than a broker. "He took a genuine interest in us. Even when we weren't in communication with him, we felt like he was working behind the scenes on our behalf," Rob said.
When the Griffiths took delivery of their new Galeon 325 GTO, Justin, and the MarineMax team helped to ease the process and orient the couple to their new boat. "The engineers, the captain, and the sales staff were all very professional and made you feel very comfortable and confident," Camielle said. She and her daughter also took MarineMax's Women on the Water® class to further enhance their skills and confidence in driving the new boat.
Not long after taking ownership of the Galeon, the Griffiths invited family and friends to join them for a christening celebration. They named the boat Meally after one of Camielle's nicknames.
"It was a lovely day," she said.
Although the couple enjoys just hanging out with friends on board the boat in its marina on the Connecticut River, they did not waste any time fulfilling their dream of long-range cruising. Meally's maiden voyage took them all the way down Long Island Sound to Fishers Island, into the Atlantic Ocean, and up Narragansett Bay to Newport, Rhode Island.
Rob was particularly pleased by the 325 GTO's offshore performance with its upgraded power and twin Mercury Verado 400hp outboards. "We've gotten it up to 42 mph. When you hit waves, the boat feels solid," he said. "Sleeping on board is comfortable—surprisingly so. And we use the drop-down balcony every time we are anchored or on a mooring ball."
"The boat looks great, very attractive," Camielle added. "She has all the things we wanted from our first boat."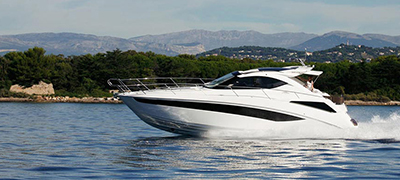 Handcrafted Excellence
Galeon designs assure unparalleled modern styling and convenience. Leading technology and design, makes each yacht exceptional.
Get on the Water
Finance Your Boat
When it comes to financing the boat you've always wanted, our team has you covered.
Explore Finance Options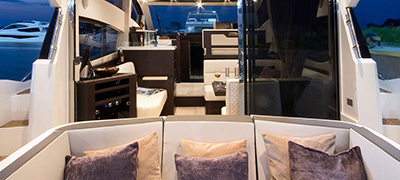 Pushing the Boundaries
Each Galeon yacht is a piece of handcrafted excellence. Galeon designs assure unparalleled modern styling and convenience.
Learn More