Decades Together
MarineMax has helped the Buckley family make memories on the water for over two decades.
By Sue Rodman
In 1999, Kevin Buckley took his then 13-year-old son Steven to the New England Boat Show in Boston. In addition to being a fun father-son day trip, the outing was the beginning of a 24-year relationship between the Buckley family and MarineMax. A connection that has spurred too many wonderful memories to count.
Kevin and Susan Buckley's story began on a boat. Their first date was a cruise aboard a 17-foot MFG bowrider owned by Kevin's father. They were just 17 years old.
The couple married in 1977 and still enjoyed getting out on the water in crafts owned by Kevin's friends. It wasn't until they moved away from their hometown that they seriously considered buying their own vessel.
It was at the Boston show with Steven where Kevin met Larry Russo from Russo Marine, which later became MarineMax Danvers. Larry put the Buckleys into the 'Boat Show Special,' a 13-ft. Boston Whaler Sport—as Kevin says, "boat, motor, and trailer" for $9,000.
"Growing up, my friends always had Whalers, and I became enthralled with them," said Kevin. "I've owned at least 10 Whalers ever since. We've been able to continually upgrade over the years because the brand holds its value so well. As our family grew and we found ourselves with a few extra bucks, we were able to trade our Whaler in and move up a couple of feet."
The Buckleys now own a 280 Vantage they purchased in 2022, and they absolutely love it, naming the boat Poppy's Pride as the five grandchildren always call Kevin "Poppy."
"We can fit a dozen people comfortably on the boat, no problem," mused Kevin. "We'll cruise around Hull, Massachusetts, where we have a beach house, or take the grandkids tubing. They love to anchor offshore, pull out the Lily Pad and jump off it."
It's good that the Whaler has so much room. The Buckley family has grown quite a bit since their first date. In addition to Kevin and Susan, their cruising often includes daughter Jessica, her husband John, and their three children, Isabella, Noah, and Liam; son
Steven, his wife Kadi and their two kids Grace and Grant; and their youngest daughter Michelle and her boyfriend Eli, who is a boat enthusiast also.
The 280 Vantage is the family cruising vessel, but they also have a 23-year-old Boston Whaler 21 Conquest they use for fishing and throwing out lobster traps.
MarineMax has been with the Buckleys every step of the way, with Sales Consultant Dan Thompson keeping his eyes and ears open for a deal on the next upgrade, which the MarineMax team handles everything from registration to delivery to the new boat orientation.
"The people at MarineMax are tremendously friendly and knowledgeable," said Kevin. "They put your interest first and ensure they get you into the right boat for your family. It isn't about the biggest boat, but the right one for your needs. And whenever we were ready to move up, they gave us a fair price for our trade-in."

Kevin was reminded of MarineMax's exceptional customer service when he bought his last boat during COVID-19.
"There was such a low inventory of boats that people were paying top dollar, so I thought it might be a good time to upgrade," Kevin remembers. "MarineMax gave me more than I paid for my Whaler and let me roll that into the new boat."
It isn't just the sales department that impresses Kevin. MarineMax knows every day that you can't be out on the water is a big deal, so when a leaky rubber seal on the head threatened to sideline the Buckley's plans, all Kevin had to do was call the service team and give them the slip number. By the next day, he received an email that everything was taken care of.
These days when Kevin is in the neighborhood, he'll stop by to say "hi" to General Manager Kim Wilkinson of MarineMax Danvers and her team or the folks at the MarineMax Boston location. Even though he's not in the market right now, it's a chance to catch up with the people he's worked with over the years.
And you never know when the opportunity to move up a couple of feet will present itself.
Sold on Whalers
Emily and Bernhard Schmid have a Boston Whaler habit.
Sold on Whalers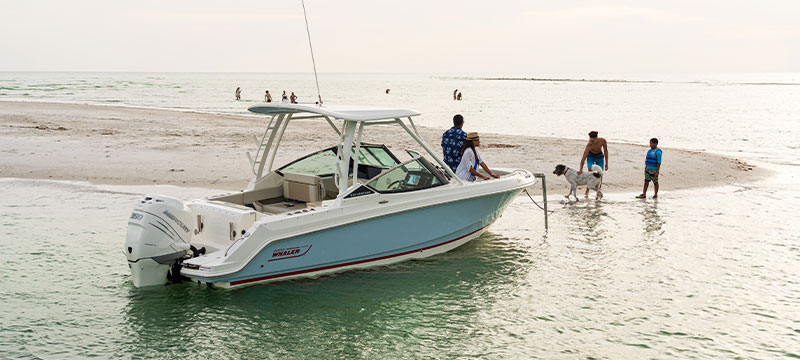 Find Your Perfect Boat Today
Start your search for the boat that has it all for your lifestyle! Explore premium new, used, and brokerage boats.
Search Boats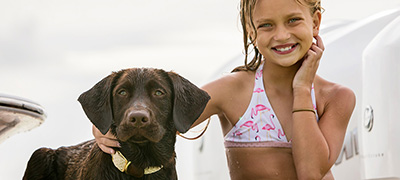 The Boating Lifestyles Blog
Browse hundreds of articles on customer stories, tips, trends, gear, amazing boating locations and more found in our Blog.
Explore Boating Articles