Two New Benetti Yachts Delivered to MarineMax Clients
Recently Benetti delivered two yachts from their Benetti Fast 125' line, SKYLAR and CONSTANCE JOY, to MarineMax clients.
Both yachts are equipped with the new generation propulsion system designed by Rolls Royce specifically for the Fast 125' family: the Azipull Carbon 65 (AZP C65), a high performance, lightweight, steerable thruster that uses carbon fiber throughout, even for load carrying parts.

Thanks to the reduced weight, the system offers a quiet ride as the engine room can be placed farther aft, leaving the guest cabins quiet and vibration-free. Another advantage offered by this innovative propulsion system is the excellent maneuvering capability both in navigation and while docking.
They also share a revolutionary D2P Displacement to Planing hull form with a wave piercer bow that allows the owner to use the yacht in displacement mode with low fuel consumption at low speeds and in planning mode at higher speeds.

The Fast 125' CONSTANCE JOY was the second Fast 125' to be sold since the line has been launched, and she distinguishes herself for her characteristic red hull. The Fast 125' SKYLER is a four deck semi-wide body yacht with a total of 5 cabins. Both were built in Benetti's Viareggio shipyard with a superstructure made of carbon and epoxy resins that are 40% lighter.

The sporty exterior of these yachts was designed by Stefano Righini who used an expanse of horizontal windows to accentuate the model's streamlined look. The interiors of both yachts were designed by Redman Whiteley Dixon. The interior of SKYLER, in particular, is based on the "Air" configuration, the most modern and minimal of the three interior style options that Benetti offers to their Fast 125' owners.

MarineMax is happy to have worked with Benetti to bring such amazing yachts to their clients. They look forward to providing more opportunities for custom yachts with the new MarineMax Superyachts Division.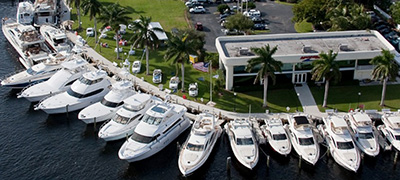 MarineMax Yacht Centers
In addition to being the world's largest stocking yacht dealer, MarineMax Yacht Centers offer priority service access to our factory certified technicians, 100-ton travel lifts, and an extensive range of parts.
View Yacht Centers
Find Your Yacht
Yacht ownership at MarineMax comes with superb benefits like rendezvous trips and parties, VIP boat show access, and dedicated yacht owner services. Start down the path and explore our stunning yachts.
Search Yachts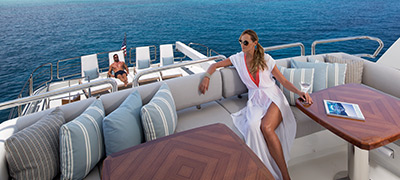 Yacht Charter Management
Are you interested in placing your yacht in a charter fleet during periods you aren't using it? Our experienced professionals at will work with you to develop your personal plan.
Explore Charter Management